Water Bottle Refill Stations
Look for one of our 37 Water Bottle Refill Stations around campus to stay hydrated and help us reduce the need for single-use plastics.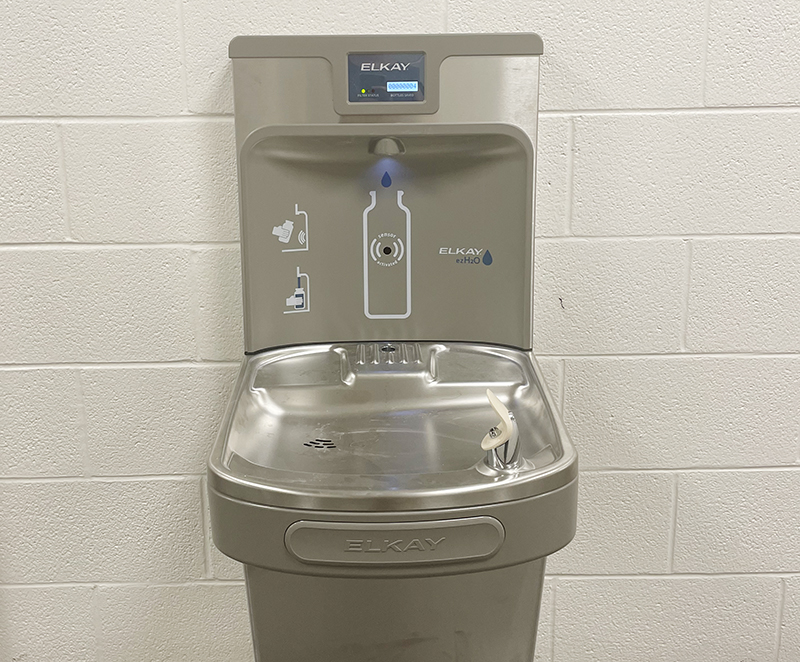 Water bottle refill stations significantly help to reduce the number of single-use plastic water bottles on our campus. Since the first installation of our refill stations, we have prevented over 420,000 plastic water bottles from entering our landfills (as of September 2023)!
Here are some things you can do to help us continue our efforts in reducing single-use plastics on our beautiful campus:
Invest in a reusable bottle. If you don't already own a reusable bottle, you can find some for sale in our campus bookstore or at many other retailers.
Invest in a water filter.

There are many options when it comes to water filters. You can find them in all shapes and sizes online, making it easier for you to fit a filtered pitcher into your mini fridge. Although your tap water is safe to drink, many people enjoy having a filter system for their water, plus it allows you to keep the water cold.
Spread the word! Be a plastics reduction champion and encourage your friends and peers to use their reusable bottles and ditch the plastic. Simple actions really do make a difference, and with your help, we can make Catawba the best it can be!
Filter Replacements
If you notice that the water bottle refill station near you needs to be replaced, please put it in a work order:
Locations
View Locations on Interactive Map
Fill and refill your reusable bottle throughout your day at our water bottle filling stations. They're available in many of our campus buildings:
Abernethy Physical Education Center -

Main lobby at water fountain, near entrance of women's restroom
Off main lobby, down hall past Classroom 109 at water fountain near coaches offices
Lower floor hallway leading to auxiliary gym/handball courts at water fountain
Lower floor hall just outside of Faculty Men/Game Officials locker room
Lower floor hall just outside of swimming pool

Barger Zartman Residence Hall

Main level, just inside the accessible entrance

Cannon Student Center -

Main floor, near game room at water fountain
Bottom floor, across from Wellness Center at restrooms

Center for the Environment -

1st floor across from the elevator
2nd floor across from the elevator
3rd floor across from the elevator
3rd floor across the catwalk, opposite direction of the elevators

Corriher-Linn-Black Library -

Main floor, at water fountain across from elevator
Second floor by restroom

Facilities Office Shop (staff use only)

Florence Busby Corriher Theatre

Hayes Field House -

Back hallway to the right, at the water fountain near the Visiting Team Locker Room

Hedrick Administration Building -

1st floor lobby at the water fountain
1st floor in Student Success Center by restrooms
2nd floor by HR offices
3rd floor by men's restroom

Hoke Hall -

2nd floor at water fountain

Hollifield Residence Hall –

Main floor, just inside side door entrance

Ketner Hall –

1st floor by Nursing Department simulation lab
2nd floor by stairwell, on side closest to the Student Center
3rd floor by stairwell, on side closest to the Student Center

Omwake-Dearborn Chapel -

Lower level, at water fountain in hallway outside coffeehouse

Pridgen Outdoor Area -

Between the beach volleyball courts and the outdoor basketball court

Robertson College-Community Center -

Main lobby by women's restroom
Main lobby by men's restroom
Backstage Green Room

Shuford Science Building -

Top floor hallway at water fountain, near window at end of hall overlooking W. Innes Street
2nd floor hallway by elevator, near window at end of hall overlooking W. Innes Street

Stanback Residence Hall –

Main floor, left side of building in small alcove by side entrance

Williams Music Building -

Lower level at water fountain
Top floor at water fountain