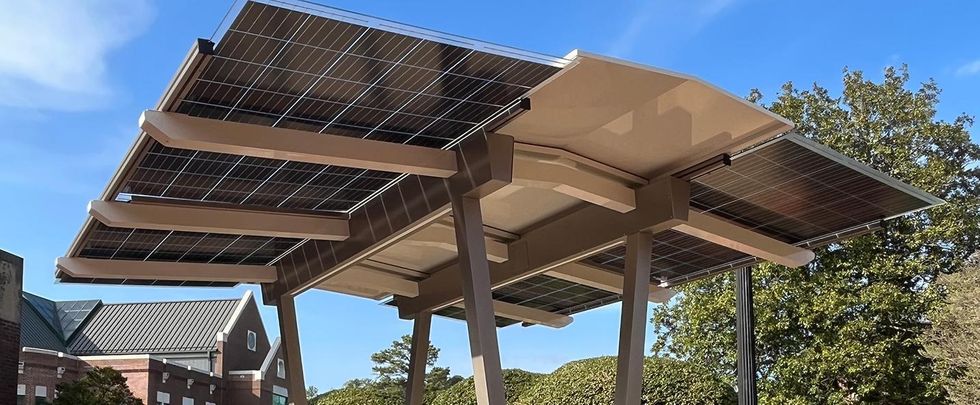 Solar Installations at Catawba College
When Catawba's solar project was completed in the summer of 2015, it produced more solar electricity than that produced by all of North Carolina's other colleges and universities combined.
Eight Buildings On Campus Incorporate Solar Elements
The installation includes photovoltaic systems, solar thermal collectors, campus-wide water fixture replacements and extra roof insulation. This is projected to save the college nearly $5 million over the next 20 years and was uncommon for systems to be mounted on existing rooftops and parking lots, as Catawba's is. More often, the projects are installed on large field areas. Catawba's project is significant because it doesn't take up additional land resources.
Types of Solar installations at Catawba
There are two types of solar installations on Catawba's rooftops. Read more below:
Photovoltaic Panels
These panels use solar energy to produce electricity. The photovoltaic systems at Catawba College are broken down into systems that directly serve the College and systems that send power back to the grid.
Solar Thermal Collectors
The solar thermal collectors at Catawba College use solar energy to generate heat. This heat is then used for hot water, particularly in the College's residence halls, gymnasium, and field house.
Current Installations
In the table below, campus-serving power is under "Net Metered", and the systems that send electricity to the grid are "Sell-All".
Photovoltaic Panel Installations
System size (kilowatts dc)
# Modules
Total reported kilowatt-hours (kWh) since installation
# Solar Thermal Collectors
NET METERED TOTALS
171
620
1,124,337
Stanback Hall

22
80
167,377
15
Woodson Hall

33
120
251,023
24
Williams Music Building

17
60
122,445
Corriher-Linn-Black Library

33
120
242,583
Robertson College-Community Center

66
240
340,909
Barger-Zartman Hall
(solar thermal only)

10
SELL-ALL TOTALS
667
2,424
5,828,198
Shuford Parking Canopy

132
480
751,481
Hayes Field House

218
792
2,101,480
12
Abernethy Physical Education Center

317
1,152
2,975,237
15
GRAND TOTAL
(Net Meter + Sell-All)
837
3,044
6,952,535
76