Catawba College's 189-acre ecological preserve adjacent to campus is managed and maintained by the Center for the Environment staff, Catawba students, and volunteers.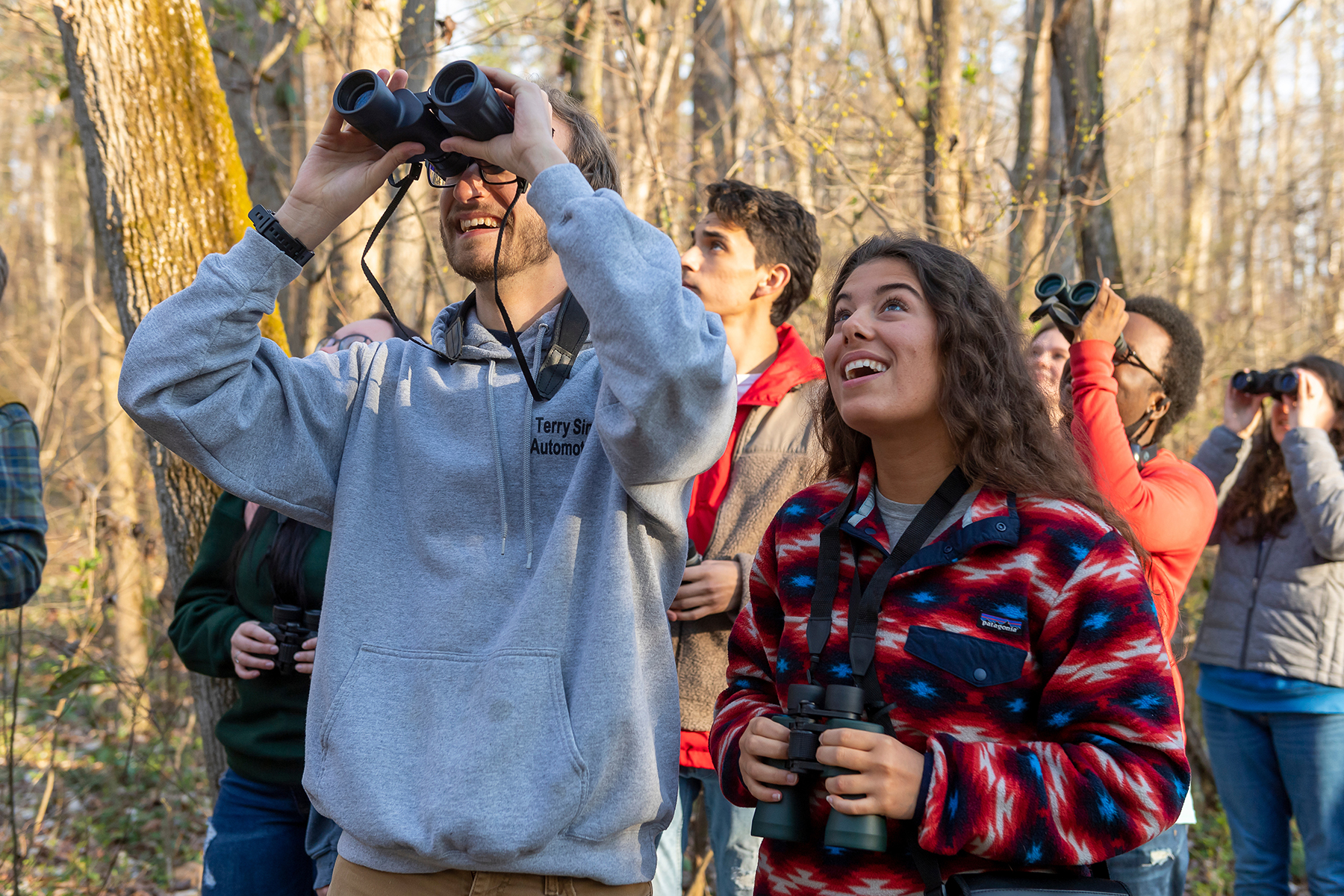 In 1998, the Catawba College Center for the Environment worked with the LandTrust for Central North Carolina to place the preserve under a permanent conservation easement, which ensures that the land will always be held in its natural state.
Features of the Fred Stanback Jr. Ecological Preserve:
189 acres of wetland environment inside the Salisbury city limits
A living classroom and laboratory
Diverse bird population of raptors, songbirds, waterfowl, herons, woodpeckers, and more
Aquatic mammals such as beavers, minks and otters
Home to gray foxes, coyotes, raccoons, opossums, squirrels, and deer
An impressive reptile and amphibian presence. For example: The Eastern Box Turtle is the only fully terrestrial turtle in North Carolina and was chosen as the official North Carolina State Reptile in 1979. Due to population decline and habitat loss, it has been designated as a vulnerable species. They are a relatively common sight in the Preserve during the lengthy spring to fall mating season, especially after summer rains.
Special Feature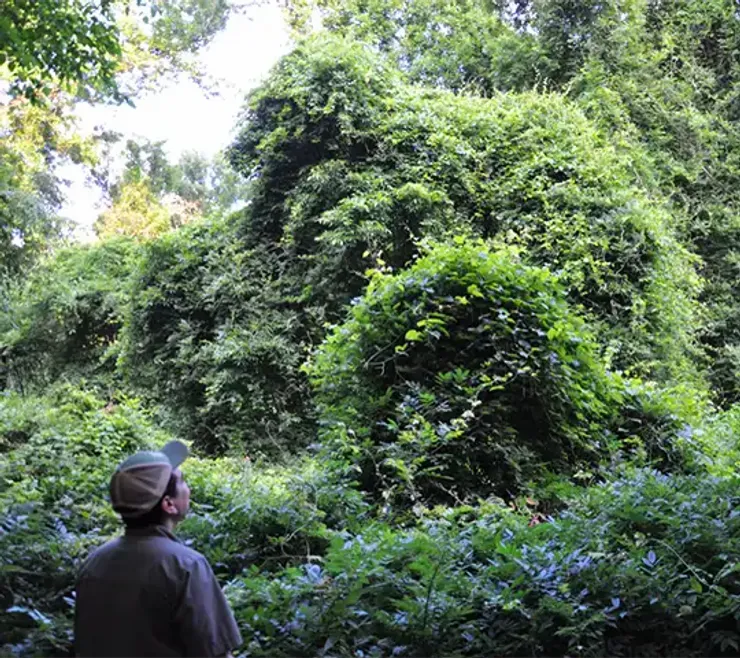 Special Feature
Take a tour of the Fred Stanback Jr. Ecological Preserve with Joshua Cool, Ecological Preserve Keeper at Catawba College, in this special blog featured on the Your Rowan website.
Flora and Fauna
The many fascinating plants and animals of Catawba's ecological preserve:
FROGS & TOADS
True Toads (Family Bufonidae)
American Toad Bufo americanus
Fowler's Toad Bufo fowleri
Treefrogs and Their Allies (Family Hylidae)
Northern Cricket Frog Acris crepitans
Cope's Grey Tree Frog Hyla chrysoscelis
Green Tree Frog Hyla cinerea
Spring Peeper Pseudacris crucifer
Upland Chorus Frog Pseudacris feriarum
True Frogs (Family Ranidae)
Bull Frog Rana catesbeiana
Green Frog Rana clamitans
Pickerel Frog Rana palustris
Southern Leopard Frog Rana sphenocephala
SNAKES
Family Colubridae
Worm Snake Carphophis amoenus
Black Racer Coluber constrictor
Black Rat Snake Elaphe obsoleta
Eastern Kingsnake Lampropelits getula
Northern Water snake Nerodia sipedon
Rough Green Snake Opheodrys aestivis
Brown snake Storeria dekayi
Redbelly Snake Storeria occipitomaculata
Eastern Ribbon Snake Thamnophis sauritus
Eastern Garter Snake Thamnophis sirtalis
Family Viperidae
Southern Copperhead Agkistrodon piscivorus
LIZARDS
Family Phrynosomatidae
Eastern Fence Lizard Sceloporus undulatus
Family Scincidae
Ground Skink Scincella lateralis
Five Lined Skink Eumeces fasciatus
TURTLES
Family Chelydridae
Common Snapping Turtle Chelydra serpentina
Family Trionychidae
Gulf Coast Spiny Softshell Apalone spinifera aspera
Family Emydidae
Eastern Painted Turtle Chrysemys picta
Yellow-bellied slider Trachemys scripta scripta
Red-Eared Slider Trachemys scripta elegans
Integrade Trachemys scripta scripta x Trachemys scripta elegans
Eastern Box Turtle Terrapene carolina
Family Kinosternidae
Eastern Mud Turtle Kinosternon subrumrum
SALAMANDERS
Mole Salamanders (Family Ambystomatidae)
*Mole Salamander Ambystoma talpoideum
Marbled Salamander Ambystoma opacum
Spotted Salamander Ambystoma maculatum
Newts (Family Salamandridae)
Eastern Newt Notophthalmus viridescens
Lungless Salamanders (Family Plethodontidae)
Northern Dusky Salamander Desmognathus fuscus
Northern Slimy Salamander Plethodon cylindraceus
Southern Two-Lined Salamander Eurycea cirrigera
---
Checklist updated by J. Cooley (2013) C. Bolick (2014)
MARSUPIALIA
Opossums (family Didelphimorphia)
Opossum Didelphis virginiana
INSECTIVORA
Shrews (family Soricidae)
Southeastern shrew Sorex longirostis
Southeastern Short-tailed shrew Blarina carolinensis
Least Shrew Cryptotis parva
Moles (family Talpidae)
Eastern Mole Scalopus aquaticus
CHIROPTERA
Bats (Family Vespertilionidae)
Little Brown Myotis Myotis lucifugus
Silver-haired bat Lasionycteris noctivagans
Eastern pipistrelle Pipistrellus subflavus
Big Brown bat Eptesicus fuscus
Red bat Lasiurus borealis
Seminole bat Lasiurus seminolus
Hoary bat Lasiurus cinereus
Evening bat Nycticeius humeralis
Free-tailed Bats (Family Molossidae)
Brazilian Free-tailed Bat Tadarida brasiliensis
LAGOMORPHA
Rabbits (Family Leporidae)
Eastern Cottontail Sylvilagus floridanus
RODENTIA
Family Sciuridae
Eastern Chipmunk Tamias striatus
Grey Squirrel Sciurus carolinensis
Southern Flying squirrel Glaucomys volans
Woodchuck Mormota monax
Family Castoridae
Beaver Castor canadensis
Rats and Mice (Family Muridae)
Eastern Harvest mouse Reithrodontomys humulis
White-footed mouse Peromyscus leucopus
Golden mouse Ochrotomys humulis
Hispid Cotton rat Sigmodon hispidus
Meadow vole Microtus nuttalli
Woodland vole Microtus pinetorum
Muskrat Ondatra zibethicus
Black Rat* Rattus rattus
Norway rat* Rattus norvegicus
House mouse* Mus musculus
Jumping mice (fimily Zapodidae)
Meadow Jumping mouse Zapus hudsonicus
CARNIVORA
Family Canidae
Coyote Canis latrans
Red Fox Vulpes vulpes
Grey Fox Urocyon cinereoargenteus
Family Procyonidae
Raccoon Procyon lotor
Mustelids (Family Mustelidae)
Long-tailed weasel Mustela frenata
Mink Mustela mephitis
Striped skunk Mustela vison
Cats (Family Felidae)
Bobcat Lynx rufus
ARTIODACTYLA
Family Cervidae
White-tailed deer Odocoileus virginiana
---
*introduced
Darell Bryant1, Michael J. Baranskim, Jonathan Cooley
1 Bryant, D. 1993. A mammal survey of the Catawba College Ecological Preserve. Senior Thesis.
165 Species
This checklist covers the 189 acre Catawba College Fred Stanback Jr. Ecological Preserve, Horizons Unlimited, the Salisbury Greenway adjacent to Catawba College, surrounding schools and neighborhoods. This area is primarily in the flood plain of Grants Creek with associated forested bluffs. The area has swamp forest, fields, perennial and intermittent streams, natural and constructed wetlands.
Key
Seasons – W = Winter – December, January, February
Sp = Spring – March, April, May
Su = Summer – June, July, August
F = Fall – September, October, November
Frequency – a = Abundant – many individuals of species seen each outing
c = Common – some individuals of species seen each outing
u = Uncommon – species present but may not be seen each outing
r = Rare – species may be seen only a few times each season
x = Accidental – species seen only once or a few times
GEESE AND DUCKS
Canada Goose c c c c
Wood Duck u u u u
Green-winged Teal u r r
Am. Black Duck u r r
Mallard c c c c
Lesser Scaup r
Northern Pintail u r r
Blue-winged Teal u r r
Northern Shoveler u r r r
Gadwall r r r
American Widgeon r r r
Canvasback r r r
Ring-necked Duck u r r
Bufflehead u r r
Hooded Merganser u r r

QUAILS AND TURKEYS
Northern Bobwhite r r r r

GREBES AND CORMORANTS
Pied-billed Grebe c c u u
Double crested cormorant r r r

HERONS AND IBISES
American Bittern x x
Great Blue Heron c c c c
Snowy Egret r r r
Great Egret u u u u
Green Heron r c c r
White Ibis r r r
Little Blue heron x
Yellow-cr. Night heron x

VULTURES, HAWKS AND FALCONS
Black Vulture u u u u
Turkey Vulture c c c c
Osprey r r
Northern Harrier u u u
Sharp-shinned Hawk u u r u
Cooper's Hawk r u u u
Red-shouldered Hawk c c c c
Broad-winged Hawk u u
Red-tailed Hawk c c c c
American Kestrel r r r
Merlin x

RAILS
Common Gallinule r r r
American Coot c c u u

PLOVERS, SANDPIPERS AND GULLS
Killdeer u u u u
Greater Yellowlegs r r
Lesser Yellowlegs r r
Solitary Sandpiper r r
Spotted Sandpiper r r r
Common Snipe r r r
American Woodcock r r r
Ring-billed gull u u u
PIGEONS AND DOVES
Rock Pigeon c c c c
Mourning Dove c c c c
CUCKOOS
Yellow-billed Cuckoo u u u
OWLS
Barn owl r r r r
Eastern Screech-Owl c c c c
Great Horned Owl u u u u
Barred Owl c c c c
NIGHTJARS
Common Nighthawk c c c
Chuck-will's-widow u u u
Whip-poor-will r r r
SWIFTS & HUMMINGBIRDS
Chimney Swift c c c
Rufous Hummingbird x x
Ruby-thr Hummingbird c c c
KINGFISHERS
Belted Kingfisher c c c c
WOODPECKERS
Red-headed Woodpecker r r r r
Red-bellied Woodpecker c c c c
Yellow-bellied Sapsucker u u u
Downy Woodpecker c c c c
Hairy Woodpecker u u u u
Northern Flicker c c c c
Pileated Woodpecker r r r r
FLYCATCHERS
Eastern Wood-Pewee u u u
Acadian Flycatcher u u u
Eastern Phoebe c c c c
Willow Flycatcher x
Great Crested Flycatcher c c c
Eastern Kingbird u u u
VIREOS
White-eyed Vireo c c c
Blue-headed Vireo u u
Yellow-throated Vireo u u
Warbling Vireo r
Red-eyed Vireo c c c
JAYS AND CROWS
Blue Jay c c c c
American Crow c c c c
Fish Crow c c c c
SWALLOWS
Purple Martin u u u
Tree Swallow u u
Rough-winged Swallow c u u
Barn Swallow u u u
TITMICE, NUTHATCHES AND CREEPERS
Carolina Chickadee c c c c
Tufted Titmouse c c c c
Red-breasted Nuthatch u u u
White-breasted Nuthatch c c c c
Brown-headed Nuthatch c c c c
Brown Creeper r r r
WRENS
Carolina Wren c c c c
House Wren u u u u
Winter Wren u r r
Marsh Wren x
Sedge Wren x
KINGLETS AND GNATCATCHERS
Golden-crowned Kinglet c c c
Ruby-crowned Kinglet u u u
Blue-gray Gnatcatcher c c c
THRUSHES
Eastern Bluebird c c c c
Veery r r
Swainson's Thrush u u
Hermit Thrush u u u
Wood Thrush c c c
American Robin u c c c
MIMIC-THRUSHES
Gray Catbird u u u
Northern Mockingbird c c c c
Brown Thrasher r c c c
STARLINGS, WAXWINGS AND PIPITS
European Starling c c c c
Cedar Waxwing u u u u
American Pipit r
WARBLERS
Orange-crowned Warbler r r r r
Nashville Warbler r
Northern Parula c c c
Yellow Warbler u u u
Chestnut-sided Warbler u u
Magnolia Warbler r r
Cape May Warbler r r
Bl-thr Blue Warbler u u
Yellow-rumped Warbler c a u
Bl-thr Green Warbler u u
Yellow-throated Warbler u u
Pine Warbler c c c c
Prairie Warbler r r
Palm Warbler u u
Black-and-white Warbler u u
American Redstart u u u
Prothonotary Warbler c c c
Worm-eating Warbler r r
Ovenbird u u
Louisiana Waterthrush u u
Northern Waterthrush r r
Common Yellowthroat u c c c
Hooded Warbler r
Wilson's Warbler r r
Yellow-breasted Chat c c c
TANAGERS
Summer Tanager u u u
Scarlet Tanager r r
SPARROWS
Eastern Towhee c c c c
Chipping Sparrow u u u u
Field Sparrow c c c c
Savannah Sparrow u u u
Grasshopper Sparrow r r r
Fox Sparrow r r
Song Sparrow c c c c
Swamp Sparrow u u u u
White-throated Sparrow c c c
Dark-eyed Junco c u c
GROSBEAKS
Northern Cardinal c c c c
Rose-breasted Grosbeak u u
Blue Grosbeak u u u
Indigo Bunting c c c
BLACKBIRDS
Red-winged Blackbird u c c c
Eastern Meadowlark r r r r
Rusty Blackbird u u u
Common Grackle c c c c
Brown-headed Cowbird c c c c
Orchard Oriole u u u
Baltimore Oriole r
FINCHES
Purple Finch r r r
House Finch u u u u
Pine Siskin r r r
American Goldfinch c c c c
House Sparrow r r r r
Dr. Steve Coggin Primary Author
Additions: Dr. Joseph Poston, Jonathan Cooley
Updated (J.F. Bolin Aug 4. 2014)
Common Name
Subfamily
Genus
species
Hesperiidae - Skippers
Sachem Skipper
Hesperiinae
Atalopedes
campestris
Zabulon Skipper
Hesperiinae
Poanes
zabulon
Peck's Skipper
Hesperiinae
Polites
peckius
Tawny-edged Skipper
Hesperiinae
Polites
themistocles
Little Glassywing
Hesperiinae
Pompeius
verna
Common Checkered Skipper
Pyrginae
Pyrgus
communis
Duskywing or Cloudywing
Pyrginae
Papilionidae - Swallowtails
Pipevine Swallowtail
Papilioninae
Battus
philenor
Zebra Swallowtail
Papilioninae
Eurytides
marcellus
Eastern Tiger Swallowtail
Papilioninae
Papilio
glaucus
Black Swallowtail
Papilioninae
Papilio
polyxenes
Spicebush Swallowtail
Papilioninae
Papilio
troilus
Pieridae - Whites and Sulfurs
Sleepy Orange
Colidinae
Abaeis
nicippe
Orange Sulphur
Colidinae
Colias
eurytheme
Clouded Sulphur
Colidinae
Colias
philodice
Cloudless Sulphur
Colidinae
Phoebis
philea
Cloudless Sulphur
Colidinae
Phoebis
sennae
Falcate Orangetip
Pierinae
Anthocharis
midea
Cabbage White
Pierinae
Pieris
rapae
Lycaenidae - Gossamer-wing Butterflies
Spring Azure
Polyommatinae
Celastrina
ladon
Eastern Tailed Blue
Polyommatinae
Cupido
comyntas
White M Hairstreak
Theclinae
Parrhasius
m album
Eastern Tailed Blue
Theclinae
Satyrium
edwardsii
Nymphalidae - Brush-footed Butterflies
Hackberry Emperor
Apaturinae
Asterocampa
celtis
Monarch
Danainae
Danaus
plexippus
Varigated Fritilary
Heliconiinae
Euptoieta
claudia
Great Spangled Fritilary
Heliconiinae
Speyeria
cybele
American Snout
Libytheinae
Libytheana
carinenta
Red Spotted Purple
Limenitidinae
Lemenitis
arthemis astyanax
Viceroy
Limenitidinae
Limenitis
achippus
Common Buckeye
Nymphalinae
Junonia
coenia
Northern Crescent
Nymphalinae
Phyciodes
cocyta
Pearl Cresent
Nymphalinae
Phyciodes
tharos
Eastern Comma
Nymphalinae
Polygonia
comma
Eastern Question Mark
Nymphalinae
Polygonia
interrogationis
Red Admiral
Nymphalinae
Vanessa
atalanta
Painted Lady
Nymphalinae
Vanessa
cardui
American Lady
Nymphalinae
Vanessa
virginiensis
Common Wood-Nymph
Satyrinae
Cercyonis
pegala
Creole Pearly-eye
Satyrinae
Enodia
creola
Southern Pearly Eye
Satyrinae
Enodia
portlandia
Carolina Satyr
Satyrinae
Hermeuptychia
sosybius
Updated: 7-21-14 JFB
Corbiculidae
Asiatic Clam Corbicula fluminea Grants Creek
Unionidae
Eastern Floater Pyganodon cataracta Lake Baranski
Pond Papershell Utterbackia imbecillis Lake Baranski
Family (truncated to eight characters)
Genus
Species
Specimen Location
Acanthac
Ruellia
caroliniensis
Babcock (MS Thesis 1981)
Aceracea
Acer
floridanum
Herbarium
Aceracea
Acer
negundo
visual ID
Aceracea
Acer
rubrum
Herbarium
Aceracea
Acer
saccharinum
Herbarium
Anacardi
Rhus
aromatica
Babcock (MS Thesis 1981)
Annonace
Asimina
triloba
Herbarium
Apiaceae
Hydrocotyle
sibthorpioides
visual ID
Apiaceae
Sanicula
canadensis
Babcock (MS Thesis 1981)
Apiaceae
Sium
suave
visual ID
Apocynac
Apocynum
cannabinum
visual ID
Apocynac
Vinca
major
Herbarium
Apocynac
Vinca
minor
Herbarium
Aquifoli
Ilex
cornuta
Herbarium
Aquifoli
Ilex
opaca
Babcock (MS Thesis 1981)
Aquifoli
Ilex
verticillata
Herbarium
Araceae
Arisaema
triphyllum
Herbarium
Araceae
Peltandra
virginica
Herbarium
Aristolo
Hexastylis
arifolia
Herbarium
Asclepia
Achillea
millefolium
Herbarium
Asclepia
Ascepias
syriaca
Herbarium
Asclepiad
Cynanchum
laeve
visual ID
Asplenia
Asplenium
platyneuron
Herbarium
Asterace
Ambrosia
artemisiifolia
Babcock (MS Thesis 1981)
Asterace
Aster
vimineus
Babcock (MS Thesis 1981)
Asterace
Bidens
aristosa
Herbarium
Asterace
Bidens
frondosa
Babcock (MS Thesis 1981)
Asterace
Chrysanthemum
leucanthemum
Babcock (MS Thesis 1981)
Asterace
Chrysogonum
virginianum
Herbarium
Asterace
Erigeron
philadelphicus
Herbarium
Asterace
Erigeron
strigosus
Herbarium
Asterace
Heterotheca
mariana
Herbarium
Asterace
Hieracium
venosum
Babcock (MS Thesis 1981)
Asterace
Lactuca
canadensis
Babcock (MS Thesis 1981)
Asterace
Mikania
scandens
Babcock (MS Thesis 1981)
Asterace
Pluchea
camphorata
Babcock (MS Thesis 1981)
Asterace
Solidago
caesia
Babcock (MS Thesis 1981)
Asterace
Solidago
erecta
Herbarium
Asterace
Solidago
rugosa
Babcock (MS Thesis 1981)
Asterace
Taraxacum
officinale
Herbarium
Asterace
Vernonia
noveboracensis
Babcock (MS Thesis 1981)
Asterace
Xanthum
strumarium
Babcock (MS Thesis 1981)
Balsamin
Impatiens
capensis
Herbarium
Berberid
Berberis
thunbergii
Herbarium
Berberid
Nandina
domestica
visual ID
Berberid
Podophyllym
peltatum
visual ID
Betulace
Alnus
serrulata
Herbarium
Betulace
Betula
nigra
Babcock (MS Thesis 1981)
Betulace
Carpinus
caroliniana
Babcock (MS Thesis 1981)
Betulace
Corylus
americana
visual ID
Betulace
Corylus
cornuta
visual ID
Bignonia
Anisostichus
capreolata
Herbarium
Bignonia
Campsis
radicans
Babcock (MS Thesis 1981)
Brassica
Alliaria
petiolata
visual ID
Brassica
Cardamine
hirsuta
Herbarium
Brassica
Cardamine
penslyvanica
Herbarium
Brassica
Draba
verna
Herbarium
Brassica
Lepidium
virginicum
visual ID
Buxacea
Buxus
sempervirens
Herbarium
Campanu
Lobelia
cardinalis
Babcock (MS Thesis 1981)
Caprifol
Lonicera
fragrantissima
Herbarium
Caprifol
Lonicera
japonica
Babcock (MS Thesis 1981)
Caprifol
Lonicera
maackii ???
visual ID
Caprifol
Sambucus
canadensis
visual ID
Caprifol
Viburnum
dentatum
Babcock (MS Thesis 1981)
Caprifol
Viburnum
dilatatum
visual ID
Caprifol
Viburnum
nudum
Herbarium
Caprifol
Viburnum
prunifolium
visual ID
Caprifol
Virburnum
acerifolium
Herbarium
Caryophy
Dianthus
armeria
Herbarium
Caryophy
Holosteum
umbellatum
Herbarium
Caryophy
Silene
virginica
Herbarium
Caryophy
Stellaria
media
Herbarium
Caryophy
Stellaria
pubera
Herbarium
Celastra
Celastrus
orbiculatus
visual ID
Celastra
Euonymus
americanus
visual ID
Commelin
Commelina
communis
Herbarium
Convolvu
Convolvulus
sepium
Herbarium
Convolvu
Cuscuta
campestris
Herbarium
Convolvu
Ipomoea
purpurea
Babcock (MS Thesis 1981)
Cornacea
Cornus
amomum
Herbarium
Cornacea
Cornus
florida
Herbarium
Cornacea
Cornus
stricta
Herbarium
Crassulac
Penthorum
sedoides
Babcock (MS Thesis 1981)
Cupressa
Juniperus
virginiana
Herbarium
Cyperace
Carex
caroliniana
Babcock (MS Thesis 1981)
Cyperace
Carex
crinita
Herbarium
Cyperace
Carex
lupulina
Herbarium
Cyperace
Carex
oxylepis
Herbarium
Cyperace
Carex
rosea
Herbarium
Cyperace
Carex
squarrosa
Herbarium
Cyperace
Carex
tenera
Babcock (MS Thesis 1981)
Cyperace
Carex
vulpinoidea
Herbarium
Cyperace
Cyperus
echinatus
Herbarium
Cyperace
Cyperus
pseudovegetatus
Herbarium
Cyperace
Cyperus
strigosus
Herbarium
Cyperace
Eleocharis
obtusa
Herbarium
Cyperace
Eleocharis
tenuis
Herbarium
Cyperace
Scirpus
atrovirens
Herbarium
Dioscore
Dioscorea
polystachya
visual ID
Dioscore
Dioscorea
villosa (probaby misidentified)
Herbarium
Dryopter
Polystichum
acrositchoides
Herbarium
Elaeagna
Elaeagnus
pungens
visual ID
Elaeagna
Elaeagnus
umbellata
Babcock (MS Thesis 1981)
Ericacea
Chimaphila
maculata
Herbarium
Ericacea
Rhododendron
nudiflorum
Herbarium
Ericacea
Vaccinium
arboreum
visual ID
Ericacea
Vaccinium
atrococcum
Herbarium
Ericacea
Vaccinium
pallidum
visual ID
Euphorbi
Euphorbia
maculata
Herbarium
Fabaceae
Apios
americana
visual ID
Fabaceae
Cassia
fasciculata
Herbarium
Fabaceae
Cercis
canadensis
Herbarium
Fabaceae
Desmodium
viridiflorum
Herbarium
Fabaceae
Kummerowia
striata
visual ID
Fabaceae
Lespedeza
cuneata
Herbarium
Fabaceae
Lespedeza
procumbens
Herbarium
Fabaceae
Melilotus
alba
Herbarium
Fabaceae
Pueraria
montana
visual ID
Fabaceae
Trifolium
campestre
Herbarium
Fabaceae
Trifolium
dubium
Herbarium
Fabaceae
Trifolium
incarnatum
Herbarium
Fabaceae
Trifolium
pratense
Herbarium
Fabaceae
Vicia
caroliniana
Herbarium
Fabaceae
Wisteria
sinensis
Herbarium
Fagaceae
Fagus
grandifolia
visual ID
Fagaceae
Quercus
alba
visual ID
Fagaceae
Quercus
coccinia
visual ID
Fagaceae
Quercus
falcata
visual ID
Fagaceae
Quercus
lyrata
Babcock (MS Thesis 1981)
Fagaceae
Quercus
michauxii
Babcock (MS Thesis 1981)
Fagaceae
Quercus
nigra
Herbarium
Fagaceae
Quercus
palustris
Herbarium
Fagaceae
Quercus
phellos
Babcock (MS Thesis 1981)
Fagaceae
Quercus
rubra
Babcock (MS Thesis 1981)
Fagaceae
Quercus
shumardii
Babcock (MS Thesis 1981)
Geraniac
Geranium
carolinianum
Herbarium
Haloragaceae
Proserpinaca
palustris
visual ID
Iridacea
Iris
cristata
Herbarium
Iridacea
Sisyrinchium
mucronatum
Herbarium
Juglanda
Carya
alba
Babcock (MS Thesis 1981)
Juglanda
Carya
carolinae-septentrionalis
Babcock (MS Thesis 1981)
Juglanda
Carya
cordiformis
Babcock (MS Thesis 1981)
Juglanda
Carya
glabra
Babcock (MS Thesis 1981)
Juglanda
Carya
ovata
Herbarium
Juglanda
Juglans
nigra
visual ID
Juncacea
Juncus
acuminatus
Herbarium
Juncacea
Juncus
coriaceous
Babcock (MS Thesis 1981)
Juncacea
Juncus
dichotomus
Herbarium
Juncacea
Juncus
effusus
Herbarium
Juncacea
Juncus
elliotii
Babcock (MS Thesis 1981)
Juncacea
Juncus
tenuis
Herbarium
Juncacea
Luzula
echinata
Herbarium
Lamiacea
Ajuga
reptans
Herbarium
Lamiacea
Cunila
origanoides
Herbarium
Lamiacea
Glechoma
hederacea
visual ID
Lamiacea
Lamium
amplexicaule
Herbarium
Lamiacea
Lamium
purpureum
Herbarium
Lamiacea
Lycopus
rubellus
Babcock (MS Thesis 1981)
Lamiacea
Prunella
vulgaris
Herbarium
Lamiacea
Salvia
lyrata
Herbarium
Lamiacea
Scutellaria
integrifolia
Herbarium
Lauracea
Lindera
benzoin
Herbarium
Lauracea
Sassafras
albidum
Babcock (MS Thesis 1981)
Liliacea
Allium
canadense
Herbarium
Liliacea
Chamaelirium
luteum
Herbarium
Liliacea
Muscari
racemosum
Herbarium
Liliacea
Polygonatum
biflorum
Babcock (MS Thesis 1981)
Liliacea
Smilacina
racemosa
Babcock (MS Thesis 1981)
Liliacea
Smilax
bona-nox
visual ID
Liliacea
Smilax
glauca
visual ID
Liliacea
Smilax
rotundifolia
Herbarium
Liliacea
Trillium
cuneatum
Herbarium
Liliacea
Uvularia
perfoliata
Herbarium
Liliacea
Uvularia
sessilifolia
Babcock (MS Thesis 1981)
Liliacea
Yucca
glorosa (planted?)
Herbarium
Lorantha
Phoradendron
serotinum
Herbarium
Lycopodi
Lycopodium
flabelliforme
Herbarium
Magnolia
Liriodendron
tulipifera
Babcock (MS Thesis 1981)
Magnolia
Magnolia
grandiflora
Herbarium
Malvacea
Hibiscus
moscheutos
visual ID
Malvacea
Tilia
americana
visual ID
Melastom
Rhexia
mariana
Herbarium
Moraceae
Broussonetia
papyrifera
Babcock (MS Thesis 1981)
Moraceae
Morus
alba
visual ID
Moraceae
Morus
rubra
Babcock (MS Thesis 1981)
Myricace
Morella
cerifera
visual ID
Najadace
Najas
guadalupenis
visual ID
Nyssacea
Nyssa
sylvatica
Babcock (MS Thesis 1981)
Oleaceae
Chionanthus
virginicus
visual ID
Oleaceae
Fraxinus
americana
Herbarium
Oleaceae
Fraxinus
pennsylvanica
Herbarium
Oleaceae
Ligustrum
lucidum
Herbarium
Oleaceae
Ligustrum
vulgare= sinense
Herbarium
Onagrace
Ludwigia
glandulosa
Babcock (MS Thesis 1981)
Onagrace
Ludwigia
palustris
visual ID
Onagrace
Oenothera
fruticosa
Herbarium
Ophioglo
Botrychium
virginianum
Herbarium
Ophioglo
Ophioglossum
pycnostichum
visual ID
Ophioglo
Sceptridium
dissectum
visual ID
Orchidac
Aplectrum
hyemale
visual ID
Orchidac
Goodyera
pubescens
visual ID
Orchidac
Tipularia
discolor
visual ID
Osmunda
Osmunda
cinnamomea
Babcock (MS Thesis 1981)
Oxalidac
Oxalis
dillenii
visual ID
Oxalidac
Oxalis
stricta
visual ID
Papavera
Sanguinaria
canadensis
visual ID
Passiflo
Passiflora
incarnata
Herbarium
Passiflo
Passiflora
lutea
visual ID
Phytolac
Phytolacca
americana
visual ID
Pinaceae
Pinus
echinata
Babcock (MS Thesis 1981)
Pinaceae
Pinus
taeda
visual ID
Pinaceae
Pinus
virginiana
Babcock (MS Thesis 1981)
Plantace
Platanus
occidentalis
Babcock (MS Thesis 1981)
Plantagi
Plantago
virginica
visual ID
Poaceae
Agrostis
hyemalis
Herbarium
Poaceae
Agrostis
perennans
Herbarium
Poaceae
Andropogon
ternarius
Herbarium
Poaceae
Anthoxanthum
odoratum
Herbarium
Poaceae
Arthraxon
hispidus
Herbarium
Poaceae
Arundinaria
gigantea = tecta
Herbarium
Poaceae
Dactylis
glomerata
Herbarium
Poaceae
Echinochloa
crus-galli
Herbarium
Poaceae
Festuca
elatior
Herbarium
Poaceae
Festuca
obtusa
Herbarium
Poaceae
Glyceria
septentrionalis
Babcock (MS Thesis 1981)
Poaceae
Glyceria
striata
Herbarium
Poaceae
Holcus
lanatus
Herbarium
Poaceae
Hordeum
pusillum
Herbarium
Poaceae
Leersia
oryzoides
Babcock (MS Thesis 1981)
Poaceae
Lolium
perenne
Herbarium
Poaceae
Microstegium
vimineum
Babcock (MS Thesis 1981)
Poaceae
Panicum
clandestinum
Herbarium
Poaceae
Panicum
commutatum
Herbarium
Poaceae
Panicum
dichotomum
Herbarium
Poaceae
Panicum
polyanthes
Herbarium
Poaceae
Panicum
stipitatum
Babcock (MS Thesis 1981)
Poaceae
Phyllostachys
aurea
Herbarium
Poaceae
Poa
trivialis
Herbarium
Poaceae
Setaria
parviflora
Herbarium
Poaceae
Tridens
flavus
Herbarium
Polemona
Phlox
amoena
Herbarium
Polemona
Phlox
nivalis
Herbarium
Polygona
Polygonum
cuspidatum
visual ID
Polygona
Polygonum
pensylvanicum
Babcock (MS Thesis 1981)
Polygona
Polygonum
virginianum
visual ID
Polygona
Rumex
acetosella
Herbarium
Polygona
Rumex
crispus
Herbarium
Polypodi
Polypodium
polypodioides
Herbarium
Potamoge
Potamogeton
diversifolius
visual ID
Ranuncul
Aquilegia
canadensis
Herbarium
Ranuncul
Cimicifuga
racemosa
Herbarium
Ranuncul
Hepatica
americana
Babcock (MS Thesis 1981)
Ranuncul
Ranunculus
bulbosus
visual ID
Ranuncul
Ranunculus
carolinianus
Babcock (MS Thesis 1981)
Ranuncul
Ranunculus
pusillus
Herbarium
Rhamnace
Ceanothus
americanus
Herbarium
Rosaceae
Agrimonia
parviflora
visual ID
Rosaceae
Amelanchier
arborea
Babcock (MS Thesis 1981)
Rosaceae
Crataegus
sp.
visual ID
Rosaceae
Duchesnea
indica
Herbarium
Rosaceae
Geum
canadense
visual ID
Rosaceae
Potentilla
canadensis
visual ID
Rosaceae
Prunus
serotina
Herbarium
Rosaceae
Rosa
multiflora
visual ID
Rosaceae
Rosa
palustris
visual ID
Rosaceae
Rubus
flagellaris
Herbarium
Rubiacea
Cephalanthus
occidentalis
Babcock (MS Thesis 1981)
Rubiacea
Diodia
virginiana
Babcock (MS Thesis 1981)
Rubiacea
Galium
aparine
visual ID
Rubiacea
Galium
circaezans
Herbarium
Rubiacea
Galium
obtusum
visual ID
Rubiacea
Galium
tinctorium
Herbarium
Rubiacea
Houstonia
caerulea
Herbarium
Rubiacea
Houstonia
purpurea
Herbarium
Rubiacea
Mitchella
repens
Herbarium
Rubiacea
Mollugo
verticillata
visual ID
Rubiacea
Sherardia
arvensis
Herbarium
Rutaceae
Citrus
trifoliata
visual ID
Rutaceae
Clematis
terniflora
visual ID
Salicace
Populus
heterophylla
Herbarium
Salicace
Salix
nigra
Babcock (MS Thesis 1981)
Saururac
Saururus
cernuus
Babcock (MS Thesis 1981)
Saxifrag
Itea
virginica
Herbarium
Scrophul
Aureolaria
pedicularia
visual ID
Scrophul
Veronica
persica
visual ID
Scrophul
Veronica
serpyllifolia
visual ID
Simaroub
Ailanthus
altissima
visual ID
Solanace
Datura
tatula = stramonium
Herbarium
Solanace
Solanum
carolinense
Herbarium
Typhacea
Typha
latifolia
visual ID
Ulmaceae
Ulmus
alata
Babcock (MS Thesis 1981)
Ulmaceae
Ulmus
americana
Herbarium
Ulmaceae
Ulmus
rubra
Babcock (MS Thesis 1981)
Urticace
Boehmeria
cylindrica
visual ID
Urticace
Pilea
pumila
visual ID
Valerian
Valerianella
radiata
visual ID
Verbenac
Verbena
brasiliensis
visual ID
Verbenac
Vitex
negundo (INVESTIGATE SHEET)
Herbarium
Violacea
Viola
affinis
Herbarium
Violacea
Viola
palmata
Herbarium
Violacea
Viola
papilionacea
Herbarium
Vitaceae
Ampelopsis
brevipedunculata
visual ID
Vitaceae
Parthenocissus
quinquefolia
visual ID
Vitaceae
Vitis
rotundifolia
visual ID
Vitaceae
Vitis
vulpina
visual ID
Compiled by J. Cooley and J.F. Bolin using the MS Access Database Developed by M. Baranski
Babcock, J. (1981) Ecological Analysis and Management Plan for the Salisbury Nature Study
Area in Rowan County, North Carolina. M.S. Thesis, Duke University
A Bird's-Eye View
The view from above of Catawba's ecological preserve shows the vastness of its natural beauty. Home to many species, it is a living classroom for student field study and research right at the doorstep of our beautiful campus.

Sightings in the Preserve