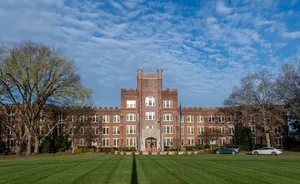 Bob Arnold, Chair of Catawba College's Board of Trustees, is pleased to announce the appointment of four distinguished individuals to its Board of Trustees following the October 2023 board meeting. These newly elected members bring a deep connection to the institution and a strong commitment to advancing the College's mission.
The new members are Martina "Tina" Costino Jones of Key Largo, Florida and Alexandria, Virginia, Nicolas "Nick" Means of Salisbury, NC, Glen D. Lloyd of Mankato, Minnesota, and Thomas E. "Tom" Burdette of Naples, Florida.
"We are delighted to welcome Tina, Nick, Glen, and Tom to our Board," said Catawba College President, David P. Nelson. "Our trustees have an important stewardship of our institution, and the talent, experience, and dedication each of these new members possess will serve Catawba well in the years to come. "
Martina Costino Jones (Class of 1980)
Jones majored in Political Science and minored in Business and Spanish while at Catawba, also playing softball. From a military family, she was born in Costa Rica and as a teen lived several years in Peru before her family returned to the States, where she finished high school in Northern Virginia. She served on Catawba's Board of Visitors and serves on several boards in her community. She holds a master's degree in finance and economics and has had successful careers in the realms of finance, software sales, and later in residential real estate. Both she and her husband are 100-ton licensed Coast Guard Captains and enjoy cruising worldwide. They have crossed the Atlantic Ocean twice and the Pacific once. When not traveling, they split their time between the Florida Keys and Northern Virginia, where Jones volunteers at one of the largest homeless shelters in the area, Carpenter's Shelter.
Nick Means (Class of 2003)
Means is a cum laude graduate with a degree in business administration. He was a football player all four years at Catawba and was the 2001 South Atlantic Conference Scholar-Athlete for football. In 2014 he was inducted into Catawba's Sports Hall of Fame for his outstanding athletic record and is still the all-time leading receiver in yards. Means has served on Catawba's Alumni Board, its Board of Visitors, and as a founding member and president of the Catawba Black Alumni Network (CBAN). In the local community, he is an assistant basketball and football coach at North Rowan High School, participates in the Man Up Monday mentoring program, and serves on several boards including as Chair of the Leadership Rowan Steering Committee and treasurer of the Blanche and Julian Robertson Family Foundation. He received the 2023 Elizabeth Duncan Koontz Humanitarian Award for his service in the community. He is a Vice President and Community Banking Officer with F&M Bank where his career spans over twenty years.
Glen Lloyd (Class of 2006)
A communications major and political science minor at Catawba, Lloyd was also a football player. Lloyd grew up in the Washington D.C. area. He served on Catawba's Board of Visitors, and most recently was an external consultant for the strategic plan process. He holds a master's degree in public administration. His career in higher education included serving at St. Olaf College, Gustavus Adolphus College, and Macalester College, and in 2020 he became the CEO of the Epilepsy Foundation of Minnesota, leading that organization to achieve its highest-ever fundraising goal in 2022 and to surpass it in 2023. He was recognized by Twin Cities Business Magazine as a 2023 Notable BIPOC Executive.
Tom Burdette (Class of 1973)
Burdette came to Catawba from his hometown of Hyattstown, Maryland where he majored in accounting and was an active member of the football team as a defensive secondary, becoming All-Conference and All-District his senior year. He served on Catawba's Alumni Board and Board of Visitors and a previous term on the Board of Trustees. He remains a strong supporter of Catawba's football program. Burdette started his own CPA firm in Washington, D.C. at the age of 27. Today, The Burdette Smith & Bish LLC employs approximately 50 people. It was named Best Professional Firm by the Central Fairfax Chamber of Commerce, and Burdette was named Business Leader of the Year by the same organization. After retiring from active status with the firm, he continues to work with key clients.
These new board members will join the existing trustees in their collective efforts to support the College's strategic initiatives, ensuring that Catawba College continues to provide an exceptional educational experience for its students, building on its rich history and traditions.
The board of trustees is composed of both Catawba College alumni and non-alumni members who represent a variety of professional and personal backgrounds, bring diverse viewpoints, and come from a range of geographic regions.