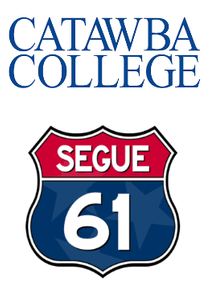 Segue 61 is a first-of-its-kind, eight-month certificate program offered by Catawba College to 18 elite students, bridging their transition from formal education to full-fledged careers in the music industry. Segue 61 is a unique program in Nashville, Tennessee that will soon offer promising musicia...
Segue 61 is a first-of-its-kind, eight-month certificate program offered by Catawba College to 18 elite students, bridging their transition from formal education to full-fledged careers in the music industry.
Segue 61 is a unique program in Nashville, Tennessee that will soon offer promising musicians, songwriters, producers/engineers and music business hopefuls from all genres an advantage in launching their careers. An elite inaugural class of 18 students will be selected from the online applicants to hone their music industry chops under the daily direction of influential mentors. Segue 61's eight-month experience begins January 7, and applicants will be notified by the end of November if they've been accepted into the exclusive program.
Students will benefit from real-world, hands-on training from a broad collection of mentors currently active in the industry. These instructors range from Grammy-winning songwriters and producers to first-call musicians and career-crafting music business executives, as well as members of both the Songwriters and Rock & Roll Halls of Fame.
Respected staff experts include:
World-renowned session guitarist Guthrie Trapp, whose credits include support for Garth Brooks, Alison Krauss, Jerry Douglas and Sam Bush, among others.
Versatile drummer Pete Abbott, whose scope of work reaches from Average White Band to session work with legendary producer Phil Ramone to current touring with rising country star Ashley Monroe.
Former BMI and Sony executive Clay Bradley, whose resume includes support for an extensive list of artists including Miranda Lambert, Kenny Chesney, and George Strait. Bradley is now co-partner of Third Generation management agency, which represents the emerging Muddy Magnolias. He is also the grandson of Owen Bradley who is credited (with Chet Atkins) for founding "The Nashville Sound" in the mid-1950s, which propelled country music into the American mainstream with the groundbreaking Patsy Cline and other artists.
"Segue 61's purpose is grounded in same vision from which my grandfather's greatest musical successes were born," says Bradley, who heads Segue 61's music business interests. "Owen Bradley and Chet Atkins had a clear, but very different idea of how to deliver what was then country music to a broader consumer base. They had a new way of looking at a traditional model. They followed their vision and changed American music forever."
"Segue 61 aspires to also offer elite students a very different path to the goals they have in the music profession, through a process whose time has come," Bradley says. "Let those with real-world, real-time experience In the music business deliver the inside information that isn't accessible any other way. Music professionals finally have a platform to help develop more informed young candidates for what can be a very tough business."
After a year of incubation with other platforms, Catawba College's Music Department Chairman Dr. David Fish, began consulting in September, 2014 with Bill Armour, an experienced marketing professional and Special Assistant To Catawba President Brien Lewis, about a more focused plan, targeting the emerging world music market in Nashville. Armour spent over 200 days in Music City engaging with a range of well-placed industry professionals (musicians, engineers/producers, and music business figures) as the Segue 61 model came together.
The data in defense of Nashville as the home for Segue 61 was definitive: the city's density of music industry activity is currently 20 to 30 times as great as that in New York and Los Angeles. Additionally, the core employment in Nashville's music industry [per 1,000 population/1,000 total employment] (4.19) and earning quotient (4.30) exceeds all other U.S cities including Los Angeles [1.61] and New York [1.13] by 2.5 to 4 times.
Two years of focus group interviews with a myriad of Nashville influencers—as well as with young graduates struggling to establish themselves in the field — produced a consensus calling for a new form of practical career preparation:
Most of those trying to enter the music industry lack the essential soft skills of communication, teamwork, problem solving, professionalism and tenacity.
Gaining "street smarts" can take a heavy toll as individuals make costly mistakes that could've been avoided through proper mentoring.
Gaps in job preparation are often found among university graduates who've studied popular music, engineering/production, and music business.
Segue 61 is distinct from, but complementary to, other higher education programs when it comes to addressing this instructional void. "Unlike the old A&R model where labels provided a team of experts to nurture an artist's talent, today's performers are expected to be more self-sufficient in all aspects of their career," explains Dr. Fish. "That's where Segue 61 fits in — as a bridge to provide future music professionals the finishing touches they need to thrive in the modern scene, while offering music execs a trusted pool of polished talent ready to hit the ground running."
Segue 61 is a unique certificate program offered by Catawba College in Nashville, Tennessee designed to prepare elite students for careers in the music business. With a roster of top music industry professionals mentoring select, strategically chosen classes of exceptional students, Segue 61 aims to provide graduates with the real-world working experience industry employers are actively seeking.
Interested applicants should apply now for January's inaugural class at www.segue61.com. For more info on this program or to arrange an exclusive interview with Segue 61 Strategic Development Director Bill Armour, contact Jason Myers at jason@contentfac.com.