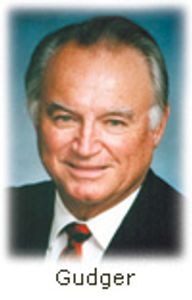 Albert H. "Tuck" Gudger, Sr., a 1948 alumnus of Catawba College, says a new scholarship he has established at the institution is just another way he is "giving back." Preference for the Albert H. "Tuck" Gudger, Sr. Scholarship will be given to a wide receiver on the football team, a position that Gu...
Albert H. "Tuck" Gudger, Sr., a 1948 alumnus of Catawba College, says a new scholarship he has established at the institution is just another way he is "giving back." Preference for the Albert H. "Tuck" Gudger, Sr. Scholarship will be given to a wide receiver on the football team, a position that Gudger once held.
"I should have done this a long time ago," he notes. "I just feel that Catawba has been great and has meant a tremendous amount to me. I think you should give back to your school in terms of service and in terms of financing."
Tuck, who makes his home in Asheville, N.C., has led an interesting life as an athlete, a coach, a teacher, a flyer, a salesman, a public speaker, an active participant in civic and cultural affairs in his community, an author, and as a pageant judge, having judged a total of 69 state pageants for the Miss America System in 45 different states. But his interesting life voyage launched from Salisbury, his hometown.
Gudger, a former star athlete at Boyden High School in Salisbury, enlisted in the U.S. Air Force after his graduation from high school in June of 1943. He was only 18 years and two weeks old. He received his commission as a navigator exactly one year later in June of 1944 and was shipped overseas in September of 1944 with the 13th Air Force in the South Pacific Theatre. He was a navigator on a B-24 Liberator Bomb, "a four-engine bomber that was the biggest thing we had," he remembers, "before the B-29s came out."
He was promoted to 1st Lieutenant in November of 1944 and by March of 1945, he had flown 42 combat missions, spending 620 combat hours in the air. He had also survived a crash landing in the Pacific which killed four of his 10-member crew. He was awarded the Purple Heart, the Air Medal with Four Oak Leaf Cluster, the Pacific Battle Medal with Five Battle Stars, and the Presidential Unit Citation. He was honorably discharged in November of 1945, but by then he was already married to his wife, Mary Frances "Murf" Jarvis '49 of Salisbury, and was an active student-athlete at Catawba College due to his accumulated military leave time.
Gudger lettered in three sports while at Catawba — football, basketball and baseball — and played in the first (1947) and second (1948) Tangerine Bowl Games in Orlando, Fla., under Coach Gordon Kirkland. Gudger recalls the legendary Kirkland saying: " 'When you're in the game give it all you've got! Give it 100%!' and he always pressed on that. He was an originator. He came up with a special play for almost every game and I admired him for that."
But Gudger was not only a stellar athlete, he was an excellent student who majored in education at Catawba. He served as chief marshal at graduation ceremonies during his junior year and then served as a senior representative on the Student Senate. He remembers fondly Dr. David Faust, a professor of religion, who "made the study of religion interesting. He had an ability to mix a little humor in his presentations," Gudger recalls.
It was the Dean of Admissions, the late Professor M.M. "Chub" Richards '41 whom Gudger credits for helping him get an assistantship to pursue his master's degree in education at UNC Chapel Hill. After he earned that degree in 1949, Gudger spent four years coaching in Kannapolis at A.L. Brown High School, leading the Wonders to back-to-back state championships in football and basketball.
He left coaching to go into the insurance business in Asheville. He served as brokerage manager for the Paul Revere Insurance Companies for Western North Carolina and Northern South Carolina, and was later general manager for that company's Asheville operations. He obtained Paul Revere's highest honor for sales and service.
While Gudger's career thrived, so did his family. He and Murf had two children, Cynthia Baldwin '73 and Harlen '77.
Gudger also made time to be involved in the civic life of his community. He was active in the Jaycees, serving as vice president of the N.C. Jaycees and a former member of the board of directors of the U.S. Jaycees. He was chosen as the outstanding man of the year in two different cities – Kannapolis in 1952 and Asheville in 1966.

In 2008, he was presented with a lifetime achievement award for community service by the Mountain Amateur Athletic Club and the Western N.C. Sports Hall of Fame. Currently, he is a member of the board of directors of the Western N.C. Veterans Memorial, being built in downtown Asheville. He and two other members of that board raised nearly one half million dollars ($500,000) to finance the project.
In his hometown of Salisbury, Gudger always came back to judge the Holiday Caravan Parade, beginning in 1960. He has never missed serving as chief judge of that event since that time. In 2002, he was the Holiday Caravan's Grand Marshal. "It was wonderful going down the street and seeing people I haven't seen in many, many years – I just felt like something coming back to my hometown," he recalls.
He served on the board of directors of Catawba's Alumni Association, served four years as a member of the College's Board of Trustees, representing the Alumni Association, and was active in the Chiefs Club, serving as its vice president during its first year of existence and as its president during its second, third and fourth years of existence. Along with longtime friend Henry Bernhardt '50 of Salisbury, Gudger originated the Catawba Sports Hall of Fame. He was then inducted into it in 1982, six years after it was begun.
Gudger spent time participating in his "hobby." For 40 years, he has been judging pageants for the Miss America system. "There are only five states I have not judged, Colorado, Kansas, Missouri, Georgia and Alabama" he remarks. "This is more than any other person has done in the Miss America system. I've met marvelous people and the cream of the crop of the young ladies of this nation. I'm real proud of that and I'll try to get the other five states, but you only go where you are invited."
Gudger's first wife, Murf, actively supported his hobby until her death in 1986. Later, when he remarried, second wife, Peggy Sue Jones, was equally supportive. Both Murf and Peggy are now deceased and Gudger expresses a deep gratitude for the love and companionship they brought him. "The good Lord has been good to me," he says. "I don't know how I got to be so lucky and blessed, but I have been. If I die tomorrow, I can truly say I've had a wonderful life."
Copies of Gudger's autobiography can be found at the Corriher-Linn-Black Library on Catawba's campus, in the Rowan Public Library, and at the Rowan Museum.

RELATED CONTENT:
;
;
Scholarships;
Financial Assistance;
;