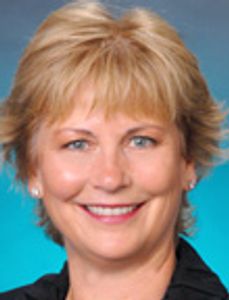 Nancy Foster Councill, a 1980 alumna of Catawba College and a current member of its Board of Trustees, talks about her experience as a student and about her interest in supporting internship opportunities for Catawba students. What brought you to Catawba initially? How did you hear about it? I went ...
Nancy Foster Councill, a 1980 alumna of Catawba College and a current member of its Board of Trustees, talks about her experience as a student and about her interest in supporting internship opportunities for Catawba students.

What brought you to Catawba initially? How did you hear about it?
I went to high school in Mechanicsburg, Pennsylvania. My high school counselor, who knew me well, told me, "I know the perfect college for you. It's in North Carolina." It was Catawba. I applied and was accepted with a little money for athletics. My parents liked that because they had three of their six children in college. I was an athlete in high school - I played field hockey, basketball and was a fast-pitch softball pitcher and I planned to play basketball and softball in college. In the 1970's students didn't visit colleges in advance like they do today. Move-in day was the first time I saw the campus. My dad brought me to Catawba, and when I got here I knew immediately it was the right place for me. I remember everybody said hey to me as I walked through the campus, and I was like "what is 'hey' and why does everyone I pass say that? Well it didn't take long to realize everyone was just saying hi.

Do you have any favorite faculty members?
Dr. Maynard "Frosty" Rich in psychology, which was my major, and Dr. William "Bill" Palmer in math. I struggled a little with math and Dr. Palmer gave me extra help; he used his lunch hours to help me. I guess these days they call that tutoring. The professors did that kind of thing. In addition to being a student athlete, I minored in recreation so I was in the athletics department quite a bit, and Coach Sam Moir stands out, he was influential for me. So was Coach Frank "Dutch" Meyer. When you're playing intercollegiate sports you have to travel to other schools for the games. The travel was a lot further than high school. I was involved in a lot of campus activities and really wanted to be on campus more, so I decided to play intramurals my last two years I was at Catawba.

What things stand out about your time at Catawba?
I absolutely loved being a student at Catawba. I had the opportunity to get involved in things I never did before, like student government. It was also nice getting to know the professors and learning about things I cared about. The faculty and staff knew you personally and they were always available to provide support and assistance.
Catawba provided a holistic education; it was not just about learning academic material in the classroom. The atmosphere provided an opportunity for personal growth. The professors were kind and they really cared about students as individuals who they wanted to succeed. They were dedicated and they were really influential on me in my time at Catawba.
In my sophomore year, I was getting recruited by Bloomsburg University in Pennsylvania – they needed a fast-pitch pitcher. They knew my reputation as a fast-pitch pitcher and the one thing my high school counselor didn't realize was that Catawba softball was slow-pitch. I got here and I couldn't slow-pitch; I tried! My coach kept saying "put more arc into it," but I couldn't get it to slow down. Softball was the most important thing to me in high school but I realized how much I had grown when Bloomsburg tried to recruit me and I didn't want to leave Catawba – not even to pitch. I already loved Catawba too much to leave. I had developed wonderful friendships, was involved in campus life and I felt at home with the support from my professors. I didn't want to leave that.

Are there ways that you see that Catawba helped prepare you for your career?
Catawba gave me the confidence to pursue my interests. I wasn't afraid to step out and do things that were outside the norm. I entered Catawba with athletics being the most important thing to me but by graduation learned how much I enjoyed academics which provided the interest to attend graduate school at Johns Hopkins University. The biggest example of how Catawba prepared me was when I left a high level position to start my own business. I knew it was time to step out on my own. I resigned my position and started my insurance business out of my home. After 14 years I merged my company with a larger organization. My education at Catawba provided me with the tools to pursue whatever I wanted to pursue.

What interested you in establishing an endowed fund for internships for Catawba students?
When students can go into a work environment to learn about a business it can provide them with valuable feedback. They can get varied experiences to help them figure out what they really want to do -- or learn what they really don't want to do! It helps them with determining their direction after college and what they want to do before graduation. I worked when I was in college but not in a field of career interest. So when I left college I had work experience but didn't have the opportunity to experience different office environments and industries. So with my company, I developed an internship program giving students the opportunity to learn about the insurance industry. I loved having the students in the office. It allowed my team to give the students the chance to better understand business and personal insurance. The insurance industry can offer an extensive carrier path but most students have never been exposed to the industry other than their car insurance. The industry includes specialties in marketing, management, law, accounting, investment, real estate, education and much more. I felt Catawba could use a strong internship program; it helps students to better know what direction they want to go after graduation and helps the college to place them in those positions. Through an internship, students can also determine if they need more education to prepare for their chosen field. But what's really nice is if they love it at the company where they intern and do a nice job while there, they may get a job offer from that company when they graduate!
Nancy and her husband Richard Councill of Monkton, Maryland, recently committed to a campaign gift of $25,000 to establish an endowed fund for The Councill Family Internships. Funding from this endowment will go to support internships for students with preference going to students studying business.