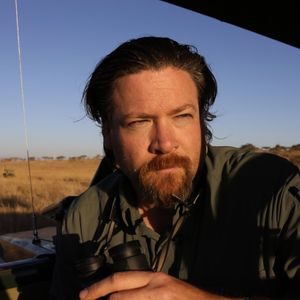 Teaching Environmental Science, by Way of Madagascar, National Geographic, and a Rare, Wild Catlike Carnivore Dr. Dollar in Namibia with a cheetah rescued by a local conservancy with funding from National Geographic's Big Cats Initiative. Luke Dollar is on the road. A lot. As chair of the Department...
Teaching Environmental Science, by Way of Madagascar, National Geographic, and a Rare, Wild Catlike Carnivore
Dr. Dollar in Namibia with a cheetah rescued by a local conservancy with funding from National Geographic's Big Cats Initiative.
Luke Dollar is on the road. A lot.
As chair of the Department of Environment & Sustainability at Catawba College, he promotes the college to high school students interested in the environment all over the state – and elsewhere. Almost every week, he is representing Catawba in front of students, teachers, and parents somewhere in the country, in addition to his regular teaching duties on campus. Last year, he gave 45 keynote speeches, classroom presentations, and media interviews at 28 different venues across 8 states.
He is electric.
Every once in a while, he even makes it to a fourth-grade class. And once again, is renewed.
"A fourth-grader reminds me of something that we all too often and consistently forget, that everyone has permission to dream the biggest dream possible. The only thing holding us back is giving ourselves permission to go for it. When a fourth-grader looks you in the eye and says, 'I am going to be an astronaut' or 'I am going to the save the whales,' they mean it. They have given themselves permission.
"I expect students who graduate from Catawba's Department of the Environment & Sustainability, to have high standards and incredible responsibility for themselves and the world around them. I see them graduating with a fourth-grader's dreams and aspirations, translated to adult terms, empowerment, and discipline."
A Catawba student and new-found friend in Madagascar, a black and white ruffed lemur.
Dollar is leading the program of his dreams at Catawba. "We have created a dynamic, growing program that is its own magnet for the best and brightest students. I don't want a student who wants to be anonymous," he says. Currently, roughly one in every 11 day students at Catawba is majoring or minoring in its Environment and Sustainability program. Two-thirds of admittances into the program choose Catawba last year. "When we think about all the options and competing institutions, that is an incredibly high yield. If we get prospective students on campus, in our Center for the Environment, interacting with our fantastic students and faculty, and out on Catawba's 189-acre, on campus Ecological Preserve, they're hooked!"
There is not a program like ours, he says, with the breath of opportunities in the environment sector, from business, policy, the sciences, education, GIS, and more. Catawba customizes the degree. "There is no single pathway," Dollar says. Last year, we added a Geographic Information Systems (GIS) minor. This year, the department is also adding a concentration in environmental policy and advocacy to its existing concentrations in Environmental Science, Natural Resource Management, Environmental & Outdoor Education, and Sustainable Planning & Leadership.
Catawba students helping the Three Rivers Conservancy/Land Trust in a recent prescribed burn in Rowan County.
The Department of the Environment & Sustainability alone awards more than $1 million in scholarships per year, in addition to Catawba's generous institutional scholarships. "These scholarship funds go to the best possible students who all share the common theme," Dollar says. "They are passionate ... about the environment, botany, education, green technology," whatever their chosen field of study. He has described his students as involved in "moving the world's needle."
Dollar arrived at Catawba in 2017 at the best of times, he says. "The college is experiencing an explosion of productivity and a wonderful time of catalytic evolution and growth," he says. And traditionally, Catawba has a history of environmental stewardship.
With undergraduate, graduate and PhD degrees from Duke, Dollar is not your typical college professor.
He spent much of his childhood days in the office with his dad, who was Dean of Students and a chemistry professor at a junior college in Alabama, or with his grandparents at their farm, "putting live critters in my pockets." Saturday mornings, however, were devoted to TV – but only "Wild Kingdom" and "Wild America."
Between ages 6 and 16, he was a child stage actor, working out of Birmingham and traveling to Pennsylvania, Washington, DC, New York, Los Angeles, and other states. Middle School was spent almost entirely backstage, between 80 performances of "The Music Man," and others – "Peter Pan," "Oliver Twist," "A Christmas Carol." He grew up adaptable, passionate about the environment, and determined to do his part to save the world. He is still at it.
Dr. Dollar and a Malagasy colleague attaching a GPS collar to a fosa in Madagascar.
He went to Duke because he learned it had a lemur center, his original interest. A first trip to Madagascar, between his junior and senior years, changed all that. "A predator ate my homework," he jokes. The predator was the rare fosa, the largest carnivore on the island. The fosa is a catlike animal unique to the forests of Madagascar and threatened, because of habitat loss.
Both the fosa and the island captured Dollar as nothing else had. Madagascar claimed him. This African island in the Indian Ocean is the fourth largest in the world, approximately the size of California and Oregon combined and is sometimes called the eighth continent. From 1999 to 2005, Dollar spent half or more his year abroad, mostly in Madagascar, doing conservation work, research and education, but also helping economic development and building schools. He has logged almost a decade of calendar time there since that first trip in 1994.
Currently, he spends three to four months a year in Madagascar. "Working in one of the world's poorest countries creates a sense of humility and responsibility to do more," he says. "It reinforces the idea that merely because of where we were born ... because of the randomness of our birth ... we are beneficiaries. We have a greater responsibility. We need to be part of the solution, rather than exasperating the problems."
When he stepped off the plane in Madagascar with Catawba students in tow this past June, it marked his 25th year making that trip. "I see the circle as completed," he says. "I think that the single most powerful thing that I can do now is to not just be the doer, spending my life doing conservation work," he says, even though the benefits have been wide-ranging. He and his colleagues will teach others.
"A single lifetime impact is what one person can achieve, but every student who graduates doubles that for each of our faculty members," he says. "I can spend 40 years helping the planet, or our department can collectively produce dozens of students a year dedicated to helping the planet.
Dollar's entire field crew in Madagascar, including Catawba students, during a recent field season and study abroad.
"The first step is to give students facts facing the global environment," he says. "We want to put tool after tool in their tool kits so that they can go out in the world and fix whatever they can. It makes sense in strategy and war. And make no mistake. We are in a war to save our planet."
All this isn't restricted to only traditional lecture style teaching from his wall-of-windows office, located in the Center for the Environment building adjacent in the Ecological Preserve on the Catawba campus.
His office is a learning lab – comfortable study areas, field logs, images of wildlife, drones, cameras –with his desk off in a corner. The space is set up for student use and students love being here, he says, and are in and out all the time. He's found them using the study area at 9 o'clock on a Saturday night. "I'm never the one locking up when I leave at night. Each day's 'goodbye' is replaced with: 'last one out, lock it up!'."
Dr. Dollar in the field in Zambia.
He has been taking undergrads abroad for conservation work since 1999. This summer, he led his second Madagascar Study Abroad Summer program for Catawba students, and he's quick to tell you that $25,000 will build a much-needed school in Madagascar. He is also Director of the NGO "Friends of Madagascar," and together they have already built or renovated almost 40 schools in Madagascar. In July of 2020, he plans a trip for the Catawba Board of Trustees and friends to see this work first-hand.
As an Explorer with the National Geographic Society, he is an expert in carnivore ecology, habitats, and preservation. You can see him in a "Ted Talk." Before coming to Catawba, he was a professor elsewhere in NC and also served as Program Director for the Society's Big Cats Initiative and conservation program from 2009 to 2017, which has funded more than 115 field-based grants worldwide. "Go see the new Lion King movie this Summer, it is going to be great!," he pitches. He is involved as an expert and leader in two- and three-week expeditions for the Society. He has been featured in "Discover" magazine with the headline "The Deadliest Carnivore." He also serves as an adjunct professor in Duke University's Nicholas School of the Environment, with whom Catawba's Environment & Sustainability department has a 3-2 agreement in which Catawba students could potentially receive both their Bachelors from Catawba and Masters from Duke in just five years overall.
The Catawba program is remarkable, he says, offering individualized attention, as well as the customized learning experience. In 2018, Catawba students delivered more than 30 independent research presentations at the State of North Carolina Undergraduate Research and Creativity Symposium. Catawba was second overall in the conference in number of student research projects presented, among all colleges attending. In terms of percentage of student presenters as a proportion of the student body size, no institution in the State came anywhere close, with Catawba leading that metric by several times more than any other NC school. "That speaks to our strength and dedication to empowering our students," he says.
"The Department of Environment & Sustainability program is an opportunity for students to do the right thing," he says. "They can be game-changers for the environment performing on scales from local to global. "The students that graduate from here," Dollar reiterates, "have high aspirations and incredible responsibility for themselves and the world around them. I see them graduating with their childhood dreams and aspirations intact, and translated to adult terms. Our graduates have the facts, compassion, drive, skills, discipline, and determination to make their dreams a reality and have an impact on our world. I want their own paths to be outrageously adventurous and fulfilling. Catawba is exactly where I want to be and our students are exactly who I want to be mentoring."