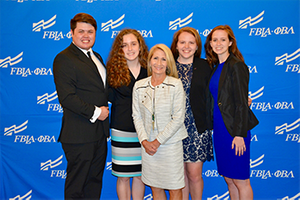 L-R: Andrew Chambers, Jess Daniel, Dr. Pamela Thompson, Lauren Hardison, and Cailtin Gordon Catawba College students have proven once again that they are among the top business students in the nation. Four students from Catawba's Ketner School of Business (KSOB) earned national awards this summer at...

L-R: Andrew Chambers, Jess Daniel, Dr. Pamela Thompson, Lauren Hardison, and Cailtin Gordon
Catawba College students have proven once again that they are among the top business students in the nation. Four students from Catawba's Ketner School of Business (KSOB) earned national awards this summer at the Future Business Leaders of America - Phi Beta Lambda (PBL) National Leadership Collegiate Conference in Anaheim, California.
All four Catawba students attending the June 24-27th conference made it to the final rounds in their respective events. They were among approximately 2,000 students from virtually all states participating in the conference which included competitions, workshops, and open events. The four students who qualified for the national competitive events did so after their placement at the N.C. State PBL Conference in Charlotte this past April.
Dr. Pamela Thompson, PBL faculty advisor and Catawba associate professor of business and information systems, accompanied the students to Anaheim, where they had the opportunity to compete, network and attend leadership and career workshops. Dr. Thompson also served as a competitive event judge at the conference.
Students attending included: PBL officers for '16 –'17: Lauren Hardison of Yadkinville (Outgoing President), Andrew Chambers of Advance (Outgoing Executive Vice-President), and PBL officers for '17-'18: Jess Daniel of Greensboro (Vice President) and Caitlin Gordon of Chapel Hill (Public Relations and Social Media Manager).
2016 Catawba graduate Morgan King of Troy (PBL President '15 –'16) also attended her first national conference as a North Carolina Professional Division member. The Professional Division provides support and leadership for the national conference and networking events allow members to learn how to grow the chapters at their respective colleges and in the state.
Catawba's national award winners are:
Retail Management – 5th place: Andrew Chambers
Social Media Challenge – 6th place: Jess Daniel, Caitlin Gordon and Lauren Hardison
Marketing Concepts – 8th place: Jess Daniel
While in California, students also toured Los Angeles and had a networking event at DisneyWorld, Anaheim. YouTube's annual VidCon event was held at the conference hotel and students also had the opportunity to interact with national vloggers who were attending the VidCon professional conference.
"The opportunity to travel to national conferences and compete with Phi Beta Lambda allows our students to grow as future business professionals--connecting classroom theory with experiential learning" stated Dr. Thompson. "I was delighted to once again accompany an exceptional group of students to the national conference. To have each student make it to the final round of competition in their respective events and win national awards is amazing as there were thousands of students representing business schools from colleges and universities all over America in attendance. Participation in PBL allows our students to grow both professionally and personally."
The 2017 North Carolina National Leadership Conference delegation included 124 members, advisers, and Professional Division members representing 19 local chapters and the NCPBL Professional Division. The Catawba College PBL Chapter is the second largest in the state of North Carolina.
Catawba's KSOB students shared the following comments about their participation in the National Leadership Conference in Anaheim:
"I am grateful to have been able to be a part of such a wonderful organization. Phi Beta Lambda has provided me with many opportunities to grow my professional network and gain real world experience before I graduated from college. I truly enjoyed my time serving as a chapter officer from Public Relations Officer during my junior year (2015-'16) and to Executive Vice President during my senior year (2016-'17)," shared Andrew Chambers '17.
"The state and national leadership conferences are major part of PBL and really allow students to grow in their fields and learn from business professionals. Attendance at these conferences not only allowed me to gain knowledge and grow my network, but it also increased my self-confidence. PBL is a great club to be a part of and I hope to see it continue to grow over the years to come. I have joined the PBL Professional Division and look forward to continuing my involvement with our chapter of PBL at Catawba!" Chambers concluded.
"I was definitely hesitant about competing at the State Leadership Conference last year, but I could not be more thankful that Lauren and Andrew talked me into taking a leap of faith and competing. Attending the National Leadership Conference in Anaheim is the most rewarding accomplishment that I have had while in college; not because I got to visit the West Coast with some amazing people, but because I received the opportunity to apply what I have learned in all my classes to real life situations. Being able to stand up on stage at State and National competition representing Catawba College and the state of North Carolina, is something I will never forget for the rest of my life," explained Jess Daniel '18
"When I returned home from California, I immediately regretted not pursuing this opportunity earlier in my college career. I hope that by reading this article, students will see the value in Phi Beta Lambda and attending the State and hopefully the National Leadership Conference at least once in their college career," Daniel said.
"This was my last year competing in the Phi Beta Lambda State and National Leadership Conferences as a student. Nationals is something I wish every member of PBL got to participate in and benefit from. It is a great way to come together at the end of the year, and get to meet some really awesome people. It still amazes me the opportunities Catawba College and Phi Beta Lambda have provided me, and I am proud to have represented these two entities alongside Andrew, Jess, and Caitlin," said Lauren Hardison '17.
"I cannot begin to thank the people who helped me along my way especially our advisor, Dr. Thompson, who supported us at every step. Now as an employee of Catawba, I look forward to seeing what PBL will accomplish with this new group of students leading the way and I am excited to get involved any way possible," Hardison added.
"This trip was one of my favorite Catawba experiences so far. I'm grateful to have gone on the trip with a great group of people. This trip helped improve and build on my business skills including public speaking, social media, and finance. Nationals was a great opportunity to network with people from all over the U.S. Thanks to everyone who helped me go to California, and represent North Carolina and the Ketner School of Business. Special thanks to our advisor Dr. Thompson, who encouraged and supported us throughout the year, especially on our trip. I'm looking forward to competing in the State Competition this year, and hopefully to competing again at the national level," said Caitlin Gordon'18.
"As a Catawba alumna, former chapter president and Professional Division (PD) member, and having attended the previous two NLCs to compete, I was thrilled to have the ability to support this year's attendees at the NLC. With N.C. having the largest delegation of PD members in the organization, I hope to grow our chapter's PD membership. I encourage anyone who has been a previous PBL and/or FBLA member or local Professional to join the Professional Division. If you are interested in learning more about the benefits of the Professional Division, please reach out and connect with me via LinkedIn," Morgan King '17 stated.
Catawba's KSOB students have won a total of nine national awards over the past three years.
Future Business Leaders of America/Phi Beta Lambda, Inc. (FBLA-PBL) is the premier student business organization in the world. Each year, FBLA-PBL helps over 230,000 members prepare for careers in business and business-related fields. The PBL National Leadership Conference provides college students with the opportunity to develop leadership and professional skills by networking with business professionals, competing in business related events, giving presentations, and attending workshops.