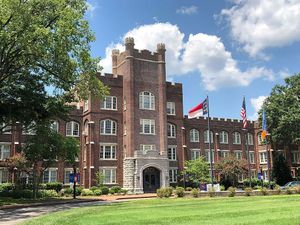 Catawba College is delighted to announce its outstanding performance in the 2024 US News & World Report Best College rankings, further solidifying its position as a premier institution of higher education in the South. The rankings, released today, September 18th, showcase Catawba's commitment to excellence in education, innovation, social mobility, and affordability.
Catawba was recognized as:
#6 Best College in the South
#2 Most Innovative Schools in the South
#3 Undergraduate Teaching Programs in the South
#25 Best Value Schools in the South
#29 Social Mobility Colleges in the South
"This sort of recognition reflects the dedicated work of our faculty, staff, and students," said President David P. Nelson. "Catawba College remains steadfast in its mission to empower students with the knowledge and skills they need to excel in life and work while ensuring our education remains accessible and affordable."
For the eighth straight year, Catawba was recognized in the Top 10 Best Colleges in the South, a testament to its unwavering dedication to providing high-quality education and a nurturing environment for students from all walks of life. This underscores Catawba's consistent efforts to maintain its strong academic reputation and commitment to student success.
Catawba's commitment to fostering social mobility has also been acknowledged with the college ranking at an impressive #29 in the Social Mobility Regional Colleges in the South category. This accomplishment reflects Catawba's dedication to ensuring all students have access to opportunities for personal and professional growth, regardless of their background or socioeconomic status.
Perhaps one of the most exciting accolades for Catawba is its recognition as the #2 Most Innovative School Regional College in the South. This prestigious ranking highlights the College's ability to think outside the box, adapt to the changing educational landscape, and inspire creativity among its students and faculty.
Additionally, Catawba is proud to be ranked #3 in the Undergraduate Teaching Regional Colleges in the South category, acknowledging their faculty's exceptional dedication to teaching and mentoring students to help them excel in their chosen fields.
In a significant achievement, Catawba has also been recognized as the #25 Best Value College in the South. This ranking underscores the institution's commitment to providing an outstanding education that is both accessible and affordable, ensuring students and their families receive excellent value for their investment in higher education.