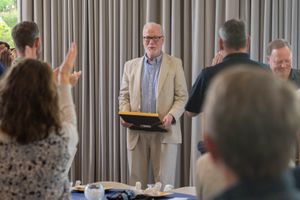 Catawba College recognized six retirees along with 37 employees for their years of service, presenting them with commemorative gifts during their annual Faculty and Staff Luncheon on April 27th.
Retirees celebrated include Dr. David Lee Fish, associate professor of music; Dr. Stephen Etters, associate professor of music; Jayne Ortiz, Spanish instructor; Dr. Barry Sang, professor of religion; Chris Zink, production manager/lighting design and technical theatre; and Teresa Bivins, director of the Proctor Heath Center.
Dr. Barry Sang was awarded emeritus status after serving as a Professor of Religion since 1985. Sang is retiring at the end of the Spring 2023 semester. He served as Chair of the Department of Religion and Philosophy, Dean of the Hurley School of Arts and Sciences, Dean of the Shuford School of Performing Arts, and has over 38 years of collegiate teaching experience at Catawba. Sang was formerly recognized with the Swink Prize for Outstanding Classroom Teaching, named the William R. Weaver Professor of Humanities, recognized with the Trustee Award for Outstanding Contributions to the College, awarded the Algernon Sidney Sullivan Award for Character, and recognized with the Paul Fisher Service Award.
Sang's colleagues contributed funding to create the Barry R. Sang Humanities Seminar Room in his honor.
Employees who were recognized for years of service through May 2023 include:
Five Years: Katherine Baker, Jason Belk, Theresa Bivens, Johnathon Boles, Luke Dollar, Jamie Henthorn, Jennifer Longwell, Shannon Axtell Martin, Mindy Miller, Scott Morton, Timothy Overcash, Michael Prescott, Joshua Smicker, Patrick Swaney, Jennifer Thomas, and Jennifer Yurchisin.
Ten Years: Nick Brown, Laura Gilland, Jim Hand, Kelli Hand, Carmony Hartwig, Kenneth Hassler, Donna James, Glenda Leonard, Richard Macri, Janye Ortiz, and Emily Schneider.
Fifteen Years: Erin Dougherty.
Twenty Years: Michael Bitzer, David Fish, Ricky Joines, David Kirkland, Sharon Newsome, and Deborah Stinson.
Twenty-five Years: Alexandra Henderson and Christine Walden.
Thirty-five Years: Stephen R. Hiatt.