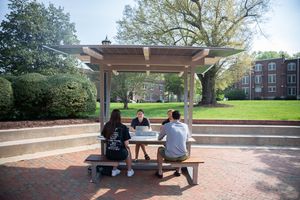 Catawba College is advancing their efforts to be a model for sustainability by adding five new Haven solar shelters to their Salisbury campus. Two of the Havens arrived on campus last week, which marks the first commercial delivery of the solar shelters in the United States and re-confirms the College's commitment to a thriving, sustainable future.
Catawba has a beautiful campus in the Piedmont of North Carolina. Students, faculty, staff, and visitors are often found studying, working, eating, and socializing at many outside areas on campus. Now they can do all that with additional space, shade, and shelter. And solar power.
"Catawba College has a history of being an environmental leader, so we are thrilled we can be the first customers for Spotlight Solar's Haven solar shelters," said Brad Ives, Director of the Center for Environment. "They are beautiful, highly functional, and great for both our students and the environment. We look forward to adding more to our campus soon."
The solar shelter installations are the latest in Catawba's efforts to be a leading force in the environment and sustainability area. They have signed the President's Climate Commitment to help shape a sustainable society. Their campus has solar panels on the rooftops of nine buildings providing energy and solar water heating. A solar panel array also covers a large section of their stadium parking lot providing shade and generating energy. And most recently, they have been recognized by the Association for the Advancement of Sustainability in Higher Education (AASHE) as a STARS Silver Institution.
Haven solar shelters are designed and built by Spotlight Solar located in Research Triangle Park, NC. They use bifacial solar panels allowing them to generate power on both sides to create clean energy that is stored in batteries under the tabletop. Each table has 16 different charge options providing up to 650 watts of power. Charging options include wireless, 120V outlets, USB A and USB C ports. They also have lights that come on automatically in the evenings. When it's cloudy, the battery backup will last at least three days. Spotlight Solar builds Havens within two hours of the Catawba campus, incorporating US-made solar panels and batteries, along with recycled and natural materials.
"It is a great privilege to bring our new Haven solar shelters to Catawba College," stated Craig Merrigan, Co-Founder and CEO of Spotlight Solar. "The college's leadership in environmental education and sustainability is inspiring. We're excited to provide these comfortable places for students and faculty to work, eat, and enjoy the outdoors – in the shade of beautiful solar panels making clean energy for laptops, lighting, and anything else people want to plug in."
Funding for the solar shelters was provided by a donor and Catawba's facilities team assembled them with help from Spotlight Solar. Three additional solar shelters will be installed on campus in the coming weeks, kicking off the start of Earth Month activities at the College.