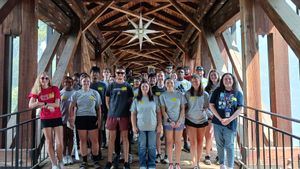 Several groups of Catawba College students visited Old Salem earlier this fall for an immersive experience.
Students from Catawba College's Pursuit program took a trip to Old Salem in September. They explored the 18th-century historic sites to bring to life the context of the autobiography of Olaudah Equiano they are reading in their First Year Seminar (FYS). Dr. Megan Flocken, Assistant Professor of Philosophy, Dr. Lydia Hayes, Assistant Professor of History, and Dr. Gordon Grant, Associate Professor of English, accompanied the students.
"It was so fun to see all our Pursuit students across three sections of FYS come together outside of our classrooms," said Flocken. "Many wore their Pursuit t-shirts, and so at the exhibits up and down the streets of Old Salem, you could catch groups of Catawba students stopping by the gunsmith to learn about craftsmanship, taking a walk through the inn and tavern to soak in what a night's rest from the horse road might be like, and tasting and taking some goodies home from the bakery."
The Pursuit is Catawba's interdisciplinary humanities scholarship program. All newly admitted first-year students are invited to apply for a $2,000 scholarship to participate in a two-course sequence in their freshman year spread over the fall and spring semesters.
Flocken also brought students from her Critical Thinking class to visit the Bechtler Museum of Art in Charlotte in September. The trip provided actual encounters with art to help students make practical connections with and see examples of the knowledge and expression practices used in artistic fields. For example, in order to process the meaning and experience of an artwork, students could focus on the art objects--their textures, shapes, colors, or the accompanying curation, or the setting--including the interior and exterior design and placement of the museum and its surrounding Uptown neighborhood.
Flocken added, "My students said they had never been to the Bechtler Museum, and most said they had hardly experienced modern art or even this museum block in Charlotte. Our trip was educational and fun on so many levels!"