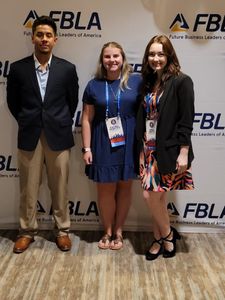 Two Catawba College students, Emma Nantz and Samuel Granillo, earned national recognition by placing in their respective events at the Future Business Leaders of America - Collegiate Division National Leadership Conference in Atlanta, GA.
Students that qualified in their state conference convene at the national conference to compete against students from around the country. At the NLC, Nantz successfully placed in the top 10 for her event, Organizational Behavior & Leadership, earning a 5th-place finish. Samuel Granillo also placed in the top 10 for his event, Marketing Concepts, earning a 7th-place finish.
"I was honored to compete in FBLA-C Nationals for my second time as an undergraduate student," said Nantz. "I learned so much about how everyday business networking conversations happen, and I was able to place 5th in my event. I am so grateful for the opportunity to have attended and hope to do so next year."
Five students from Catawba qualified in one or more events at Nationals including Lille Martin, Madison Smith, Rachel Webster, Harmony Speer, Samuel Granillo, and Emma Nantz. Of the five students that qualified for Nationals, Emma Nantz, Rachel Webster, and Samuel Granillo competed in Atlanta.
"All 3 competitors at the National Leadership Conference qualified by being among the top three competitors in their respective events at the State Competition in April," said Dr. Pamela Thompson, Catawba's FBLA-C Advisor. "Emma and Sam, along with all of the competitors, continue a long tradition of earning top honors nationally for our FBLA-C Chapter and we couldn't be prouder of our students!"
Dr. Jennifer Yurchisin, professor of Marketing at Catawba College, chaperoned the students in Atlanta. She said, "Traveling to the FBLA-C National Conference was a terrific experience for me and the students. Being able to network in person with students and advisors from other colleges was invaluable. I am so proud of our Catawba students. They have this wonderful achievement to add to their resumes as they transition from college to the work world."
Recently rebranded Future Business Leaders of America - Collegiate, previously Phi Beta Lambda, held the four-day FBLA National Leadership Conference. This is the pinnacle experience for members of the Middle School, High School, and Collegiate divisions, where students can expect competitive events, leadership sessions, networking, and the closing awards ceremony.
Emma Nantz is a rising Honors Senior at Catawba College double majoring in Spanish with a minor in Humanities and Business Administration with concentrations in Economics and International Business. She has served as president of Catawba's FBLA-C Chapter for two years.
Rachel Webster graduated in May 2023 with a Bachelor of Science in Business Administration with a concentration in General Management and a minor in Communication.
Samuel Granillo graduated in May 2023 with a Bachelor of Integrated Marketing and Communications. He served as the Marketing and Social Media Coordinator for Catawba College's FBLA-C Chapter during the 2022-23 academic year.
Since its Chapter activation in 2008, Catawba College's FBLA-C has provided its members with opportunities to learn and grow their business acumen. While business skills and activities are at the core of what the club focuses on, Catawba's FBLA-C is flexible enough to allow students that are not a part of the business school to join and gain valuable experiences.