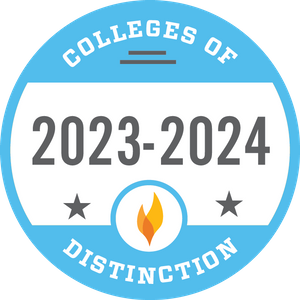 Catawba College has been named a College of Distinction for the 2023-2024 academic year, marking its commitment to providing a high-quality undergraduate education that focuses on hands-on learning, strong student-teacher relationships, a vibrant campus life, and successful outcomes.
Colleges of Distinction's selection process comprises a sequence of in-depth research and detailed interviews with the schools, accepting only those that adhere to the Four Distinctions: Engaged Students, Great Teaching, Vibrant Community, and Successful Outcomes. As a College of Distinction, Catawba College has shown excellence in each of these areas, providing its students with a well-rounded, practical education that prepares them for successful careers and lives.
Catawba has also received special recognition in the fields of Business and Education, for its outstanding Career Development initiatives for its undergraduate students, and commitment to affordability compared to other institutions.
"We believe that engaged students are successful students," said Tyson Schritter, Chief Operating Officer at Colleges of Distinction." And Catawba College's dedication to experiential learning shows us that each of its students has the opportunity to play an active role in their education." To be named a College of Distinction, Catawba College demonstrated excellence in undergraduate education in such factors as student engagement, teaching excellence, outcomes-based learning, and community involvement. This evaluation process differs from those of popular college rankings publications, whose formulas grade institutions based on things like faculty salaries, endowment size, and peer opinion.
In a precarious global economy, students are pursuing a college degree with the expectation that it will help launch a career they are passionate about. And while earning a bachelor's degree is a great start, there are many other things colleges can provide their students with a significant advantage in the job market. Catawba College's Career Development award from Colleges of Distinction confirms that its career services go above and beyond the norm, supporting students with comprehensive four-year plans, personalized advising, and more. One of the most common questions on students' minds is, "What will I do after graduation?" Fortunately, schools that receive the Career Development recognition have proven their ability to help students transition into post-graduation life with confidence. This recognition is given to institutions that offer comprehensive four-year plans, personalized advising, and more.
In an era dominated by discussions about college tuition and student debt, the Affordable Colleges of Distinction award aims to assist cost-conscious students and parents in navigating the complex landscape of college financing. Catawba College shines as a beacon of affordability among the distinguished group of Colleges of Distinction, showcasing its notable financial costs and positive outcomes.
Being one of fewer than 150 institutions selected as an Affordable College of Distinction, Catawba College stands out as a unique and cost-effective choice. The selection process relies on institutional data provided by the U.S. Department of Education, specifically focusing on low net prices proportionate to student household income.
In addition to net price, Colleges of Distinction considered median debt and mean earnings data of graduates, factoring in location, size, public/private affiliation status, and the percentage of Pell Grant recipients. These criteria collectively positioned Catawba College among the most affordable institutions.
About Colleges of Distinction
Since 2000, Colleges of Distinction has been committed to honoring schools with a dedicated focus on the undergraduate experience. Its website provides dynamic college profiles, customized tools, and resources for students, parents, and high school counselors. For more information, and to learn how to become a College of Distinction, visit CollegesofDistinction.com.