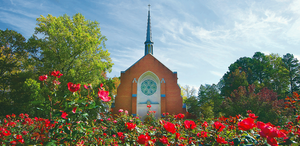 Catawba College's Shuford School of Performing Arts will present its first choral concert of the 2023-2024 Academic Year on Sunday, October 1st at 4 pm in Catawba's Omwake-Dearborn Chapel. The hour-long concert is free and open to the public.
Presented by the Catawba Singers, the " Horizons " concert will feature hope, belonging, resilience, and perseverance music. Choral classics by Randall Thompson and Ralph Vaughan Williams will join traditional spirituals and works from classic Disney movies.
Current and former Catawba students will be represented, in addition to the 55 voices of the Catawba Singers, soloists, and guest conductors from the music faculty.
The choir is under the direction of Dr. Phillip E. Burgess, Dean of the Shuford School of Performing Arts. Ms. Susan Trivette, Catawba's collaborative pianist, will accompany the program.