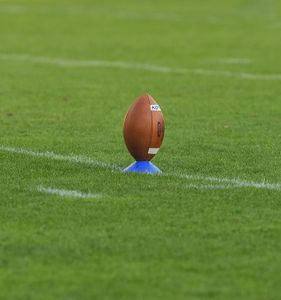 Clayton Trivett '07 was recently honored for the first time with the Salisbury Post's Rowan County Football Coach of the Year Award for 2022.
Trivett, a former lineman for the Catawba College Indians, is now the head coach for the Salisbury High School Hornets football team. He shares the 2022 Coach of the Year honor with Coach Louis Kraft of West Rowan High School.
Trivett's being recognized with this award is significant: he is new in his role as head coach with the Salisbury Hornets, and his predecessor at Salisbury, Brian Hinson, won the award multiple times.
A winning team did not come to Trivett ready-made. A large football class graduated from Salisbury last year and with a smaller senior class this season, Trivett had to replace several offensive and defensive positions with new players, some of whom had never played varsity level football. The team lost their first game 37-1 on opening night of the season to the local rival West Rowan team, coached by Kraft, the co-recipient of the award with Trivett. Salisbury regrouped after that initial defeat and powered through the rest of its season with an 11-2 winning streak and its second-in-a-row Central Carolina Conference championship, making it a successful and remarkable first season for Trivett, who already has more career wins than 33 other head football coaches in Rowan County.
Trivett is married to Catawba alumna Lauren Sanders Trivett '07, and the season was made especially memorable for them both with the birth of their first daughter the day before official practice started.
Catawba offers congratulations to Clayton and Lauren on both of these unforgettable occasions.