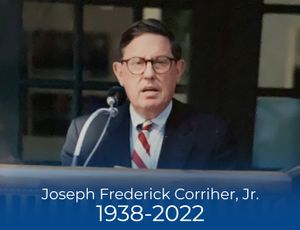 Joseph Frederick Corriher, Jr., 19th President of Catawba College, passed away peacefully at his home on October 31, 2022, surrounded by his loving family, following a long battle with bladder cancer.
Born on September 6, 1938, to Joseph Frederick Corriher Sr. and Mary Alexander Corriher in Landis, NC, he graduated from Landis High School in 1956 and from Catawba College in Salisbury, NC in 1960. He served in the U.S. Army Reserve on active duty from 1961-1962, then joined his family at Corriher Mills Company in Landis as a member of the Board of Directors and assistant corporate secretary, while working as director of alumni affairs at Catawba College from 1962-1964. He was honorably discharged from the Army Reserve in 1967. From 1964 until 1972, he was the assistant to the president and corporate secretary for Corriher Mills, and in 1972, he became the executive vice president of the Linn-Corriher Corporation, then its president and chief executive officer until 1981, at which time Dominion bought the mill. During that time in 1978, he was awarded Industrial Man of the Year by the Rowan County Industrial Management Club. In 1982, he established Corriher and Associates, a management consulting firm to the sales yarn industry, of which he was president until called upon to take the interim presidency of Catawba College, effective September 1, 1992.
In addition to being a Catawba graduate and an active member of its Board of Trustees at the time the Board called on him to serve as interim president, Fred Corriher, Jr. had many other ties to Catawba College. His father J. Fred Corriher, Sr., was an alumnus. Both his father and his grandfather, Lotan Corriher, served as longtime members of the Board of Trustees of Catawba College before him. Lotan Corriher was instrumental in the move of Catawba College to Salisbury from its original location in Newton, NC.
"I don't know that I've ever met anyone who loved Catawba College more than Fred Corriher," said Catawba President David P. Nelson. "He served the college with distinction as president, and remained a faithful supporter of our students, faculty, and staff. Personally, Fred was one of the first to welcome me to Salisbury and he was a constant encouragement to me in my role as president. I will miss our mutual exchange of "Mr. President" when we saw each other and I will miss his warm smile and generous spirit. And will always be grateful for the gift Fred Corriher has been to Catawba College."
Some of Fred's earliest memories were of visits to the Catawba campus in Salisbury with his grandfather. He remembered walking the construction scaffolding of Salisbury-Rowan residence hall as it was being built. He could recall sitting on Mrs. Keppel's lap as a little boy during lunches with his parents and Dr. and Mrs. Keppel.
As a Catawba student, Fred was very involved in campus activities, serving as freshman class president, as vice president of the Student Government Association his junior year and as its president his senior year. He was the campus photographer his sophomore and junior years, and photography would continue as a lifelong hobby for him. In addition, he served as photographer for both The Pioneer student newspaper and the Sayakini yearbook for two years and as business manager for the Sayakini for one year. In his senior year he was also a College Rotarian, was editor of the campus publications Catawba Says 'Hey' and of the Tom Tom. He was active as a member of the United Student Fellowship and the Christian Student Association for several years. In his junior and senior years, he was listed in Who's Who Among Students in American Universities and Colleges.
He earned his A.B. degree, majoring in sociology and graduating cum laude, and at graduation was awarded the Whitener Medal, Catawba's highest student honor.
Following graduation and in conjunction with his responsibilities at Corriher Mills, Fred was employed as the Director of Alumni Affairs at Catawba from 1962-1964. He remained involved at Catawba and would go on to serve on the Alumni Association Board of Directors, as a Chiefs Club member and board member, serving as its president, and on the Catawba College Board of Trustees from 1975 to 1993. He was Chair of that Board from 1984 to 1987. During those years, Catawba awarded him the O.B. Michael Award in 1979, an honorary doctorate of humanitarian services degree in 1984, and the Trustee Award for Outstanding Service to the College in 1992. His board service concluded only upon his being asked to become interim president of the College upon the unexpected passing of Dr. Stephen Wurster. Fred's tireless dedication to and deep love of Catawba was evident, and Catawba's presidential search committee soon decided that he met the requirements for a new president far better than any other candidates they considered. In 1993 they asked him to become Catawba's 19th president officially.
As president, Fred Corriher went to work for Catawba and was seemingly everywhere at once: his office, representing the College in the local community, alumni events, and attending the majority of student concerts, plays and athletic competitions. He loved Catawba, always wanted the best for Catawba and its people, and would quip that the "blood in his veins was blue- Catawba blue." Those who knew him never doubted that it was true. Jimmy Hurley, then-chair of the Board of Trustees remarked on Fred Corriher's presidency, "He can work 20 hours a day, and it doesn't seem like work to him. He took this job without question. He didn't even ask what it pays."
When he retired from the presidency in 2002, after 10 years of service, the Catawba College Board of Trustees honored him and his wife Bonnie with the prestigious Adrian L. Shuford Award and at his retirement reception in 2002 he was awarded the Order of the Longleaf Pine Award, the highest civilian honor given by the State of North Carolina. He also received a proclamation from the City of Salisbury declaring April 16, 2002, J. Fred Corriher, Jr. Day, presented by Mayor Kluttz and from the City of Landis.
In a life exemplified by service, as a Boy Scout, Fred earned the Eagle Scout award. He served as Secretary of the American Freedom Association, Inc, acting as tour director several years for an annual trip to speak at the United Nations in Washington, D.C. by high school students who were winners in a state-wide speaking competition sponsored by the Extension Division of the University of North Carolina. He was appointed in 1976 by NC Governor James B. Hunt, Jr. as a member of the North Carolina Secondary Roads Council, representing Davidson, Davie, Forsyth, Rowan and Stokes counties and he served on the NC Center for Public Policy Research Board of Directors. In 1983, he was honored by WSOC-TV as one of "Nine Who Care". In the 1980s he served on the South Rowan YMCA Board of Governors; it was named the J. Frederick Corriher, Jr. YMCA in recognition of his extraordinary fundraising efforts enabling it to be built. In 1985, he was honored with the Distinguished Service Award from YMCA of the USA, South and the Distinguished Preservation Award from the Elizabeth Maxwell Steele Chapter of the DAR. In 1994 he chaired the United Arts Fund campaign in Salisbury, NC. In 1995 he served as a volunteer in the Amigo friend/mentor program for sixth graders at North Rowan Middle School. A long time Rotarian, he was named a Paul Harris Fellow by the Rotary Foundation of Rotary International. In addition, Fred chaired a successful $76.5 million bond referendum for the Rowan-Salisbury Schools in 2002.
Active politically in the Democratic Party in Rowan County and beyond, he served as a delegate to the 1968 Democratic Convention in Chicago. He was particularly involved in the campaigns of U.S. Congressman Bill Hefner, U.S. Senator and North Carolina Governor Terry Sanford, and North Carolina Governor Jim Hunt. In 1991 he was elected as a Town of Landis Alderman, where he served briefly, resigning upon accepting the presidency of Catawba College.
A railroad buff, he initiated the first railroad museum in Rowan County located at the depot in Landis, NC, and later served on the NC Transportation History Corporation board of directors, and during that time helped to acquire and renovate the "Loretto", a private rail car that had belonged to Charles Schwab for the NC Transportation Museum and the "Doris", James B. Duke's private 1917 Pullman car.
As a wine collector and a Commandeur of the Confrerie des Chevaliers du Tastevin of Burgundy, France, he shared his passion for wine in wine appreciation classes he taught locally, at times as part of Catawba's Homecoming activities for alumni. His knowledge of food and wine pairing was enjoyed by friends and family who had the great fortune to partake in the wonderful gourmet meals he loved to cook in his retirement years.
He was a member of Mt. Zion United Church of Christ in China Grove, NC.
He is predeceased by his parents, Joseph Frederick Corriher, Sr. and Mary Alexander and his son-in-law, R.T. Dickson. Left to cherish his memory are his brother Eugene of Landis, his wife Bonnie (née Lavonne Thompson), children Susan Corriher (Frankie Musselwhite) of Landis; Charlotte of Wilmington, NC; Frederick III (Lindsey) of Charleston, SC, Mary M. Dickson (the late R.T. Dickson) of Mooresville, NC and John Lotan (Allyson) of Charleston, SC; grandchildren Brandon Price of Landis, Ambria Barbee of Salisbury, and Leah Corriher of Charleston, SC and two more on the way; by niece Candie and nephew Alex, many cousins and friends, and by many members of his extended Catawba College family.
In lieu of flowers, memorial gifts may be made to the J. Fred Sr., and Mary Corriher Endowed Scholarship Fund at Catawba College. Checks may be mailed to Catawba College Development Office: 2300 W Innes St, Salisbury, NC 28144 with J. Fred, Sr. and Mary Corriher Scholarship in the memo line.
A Service of Thanksgiving will be held Saturday, November 19, 2022, at 12 noon in the Omwake-Dearborn Chapel on the campus of Catawba College, with visitation following in the Peeler Crystal Lounge of the Robertson-College Community Center.
Upon the occasion of Fred Corriher's investiture as 19th president of Catawba, Dr. J. Michael Wilson, then-provost and dean of the college, spoke to all assembled of Fred Corriher's love for Catawba, "His love is not an infatuation nor an acquired taste but rather that profound love born of lifelong association and easy familiarity."
Recounting that some of Fred's earliest memories were of Catawba, Wilson remarked, "There is little doubt that in the twilight of his years, his last memories may well be of the pride he feels on this, the day he is anointed caretaker of this venerable place."
Yes. His last memories may well have been of the loves of his life. One of which was surely Catawba.
---
Highlights from President Corriher's presidency:
Helped grow student enrollment from 900 to 1450, a record high, and during his time as president the college's endowment grew from $7.5 million to $35 million.
Capital campaign: started in 1997 successfully met goal of $56.5 million, the largest capital campaign conducted to date by the college
A student-oriented president, he was frequently to be found at student performances, concerts and athletic competitions. He was beloved by students and fondly known as "The Prez", as he often signed his emails to the student body.
Headed up the observation of Catawba College's year-long celebration of its sesquicentennial, the 150 years since its founding in 1851.
Co-author of book of Catawba College's history "A College of One's Own," for the occasion of Catawba's 150th anniversary since founding, along with David Setzer, Dr. Martha Kirkland West, and edited by Dr. William Palmer.
Capital and improvement projects completed during his presidency:
Hayes Athletic Field House (construction completed 2002)
Center for the Environment (construction completed 2001)
Williams Music Building (total renovation completed 2000)
Florence Busby Corriher Experimental Theatre (built 2000)