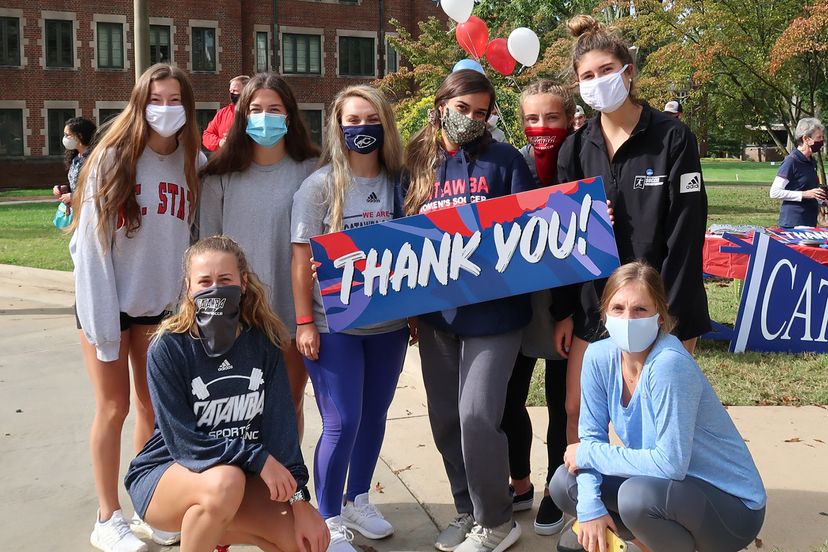 Celebrate #MYCATAWBA on September 23 by giving a gift to support and transform the lives of today's and tomorrow's students!
Support and Transform the Lives of Today's and Tomorrow's Students!
We are gearing up for Catawba's 4th Day of Giving on Friday, September 23.

Whether Catawba gave you the tools to launch your career, lifelong friendships, precious memories, a valuable professional network or the courage to reach your highest potential, we're asking you to consider giving to your reason for #MYCATAWBA and paying it forward.
Support your passion and give to what #MYCATAWBA means to you:

GIVE TO MY CATAWBA
Be an Advocate

Step Up!
This year we are asking our Catawba Family to "Step Up" and make a difference in the lives of everyone at Catawba College. With a gift of $50 or more, you can receive the 2022 Custom Catawba Socks. These socks are produced and designed by Wilson Program Sock Company in Burlington, NC by alumnus Callum Brown '95.
Share the #MYCATAWBA Day of Giving on social media!
Below is an image you can post and share on social media. To save the image, right-click and choose "save image as" or click and hold to download the image, depending on your device.
Learn More
Read more about Catawba yesterday, today, and looking forward.